Although we wrote in this same column a few weeks ago that we no longer wanted to do without the V8 under the hood of the Mustang, it should be noted that Ford also offers a turbocharged four-cylinder engine with its iconic car. sport.
We put the Ford Mustang EcoBoost to the test to see if its four-cylinder engine deserves the honor of being housed under the hood of the Mustang. Here is what we thought of it.
A small mill
In its base trim, the 2020 Ford Mustang comes with a 2.3L four-cylinder turbocharged engine. Its power and torque are 310 horsepower and 350 pound-feet, respectively.
There is no doubt that the Mustang, although equipped with the smaller engine, is not a donkey. On the contrary, the performance is amazing and the acceleration quite brisk, albeit set back from what you feel behind the wheel of a V8-powered Mustang GT.
However, know that it is possible to be entitled to more power without necessarily making the jump to the GT with a 5.0 L V8 engine. Indeed, the American manufacturer offers a so-called High Performance version of the base Mustang. . In doing so, the power climbs to 330 horsepower. As for the couple, it remains unchanged.
Regarding consumption, Natural Resources Canada announces a rating of 10.4 / L100 km for this version of the Mustang. During the test period, the on-board computer recorded fuel consumption of 10.6 / L100 km, barely two tenths more. For a so-called sports car, this is quite acceptable.
A sound that you don't get used to
The sound of a vehicle is an essential element in the pleasure equation. And in that regard, there is no doubt that the 5.0L V8 engine fulfills its mandate like a champion.
The situation is quite different, however, with the small 2.3L engine in the Mustang EcoBoost. If some manufacturers such as Honda, Subaru or Volkswagen manage to develop four-cylinder engines with an interesting sound, Ford should also succeed. Yet this automaker made the mistake of making the four-cylinder sound like it was a V8. At least to try. Alas, it's failed.
The performance of this entry-level Mustang may be convincing, but it lacks that magic touch that the purr of a V8 usually brings.
An efficient manual gearbox
If I had so much fun driving this Mustang, it is undoubtedly thanks to its manual transmission. Staged over six gears, it will make you forget the idea of ​​choosing an automatic. In an era where manual gearboxes are increasingly rare, this is an opportunity to let your purist side express itself. After all, a sports car is for fun. So why not take the experience to the end?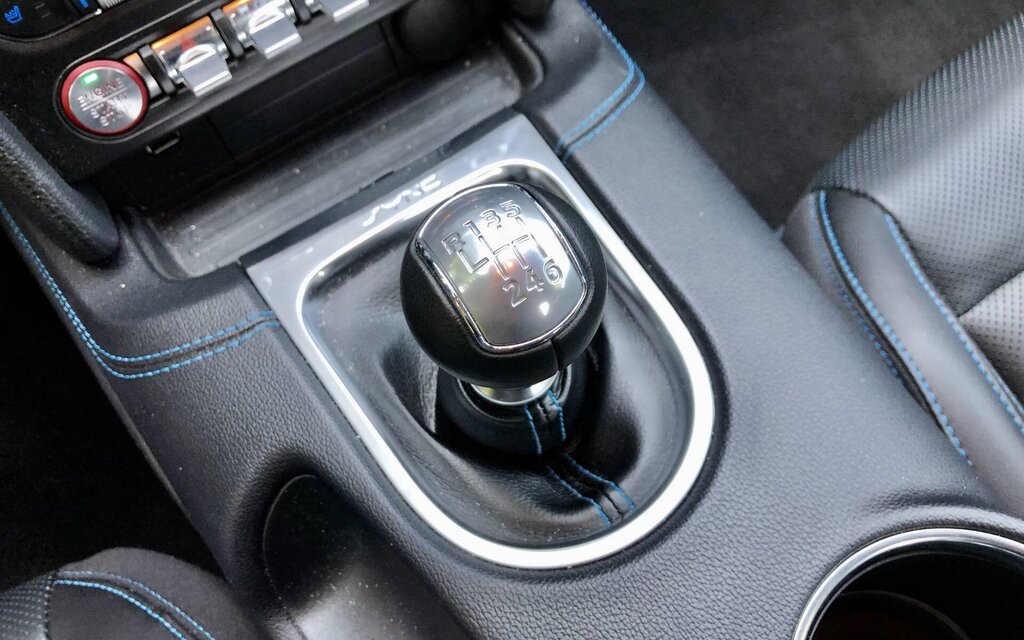 And the invoice?
At first glance, you might think that a Mustang powered by a four-cylinder is affordable. In fact, not quite.
It is important to know that it is offered from $ 29,980 and that if you want a version that will not be too stripped down, you have to make the jump to a Premium version whose base price is 35,265 $. If we select the High Performance package mentioned above, we increase the bill by an additional $ 6,500. Moreover, note that this group includes the performance exhaust with active valve, robust front springs and specific chassis tuning.
All that to say that by adding a few junk, we are getting dangerously close to $ 50,000 … for a Mustang with only four cylinders!
A faulty reversing camera
During our trial period, we had some trouble with the backup camera. In fact, a few times when we engaged the reverse gear, the infotainment system screen did not display what was behind the car. Rather, it looked like an old television with too weak a signal in front of you.
A few days later, Ford of Canada issued a recall concerning almost all of its lineup regarding this defect. Be warned.
In short
After driving it for several hundred kilometers, we conclude that the Ford Mustang's four-cylinder engine may be enough for car enthusiasts who are not looking for performance at all costs. Especially in its High Performance version for which the stable is slightly larger.
However, to enjoy the full experience behind the wheel of a Ford Mustang, the V8 engine remains a must.
In video: Mustang GT or Shelby GT350?
www.guideautoweb.com