Six years after a complete overhaul in 2015, the Ford F-150 is entitled to a serious upgrade.
This is not a complete overhaul, but rather a significant evolution that will no doubt keep it going until the design team returns to the drawing board, from a White paper.
It must be said that for the 2021 vintage, all the body panels have been redesigned. Timidly, yes, but just enough for the vehicle to gain muscle and elegance. The most marked changes clearly affect the front end, which is more angular, but also more refined. As usual, a large family of radiator grille comes to customize each version, Ford also offering three types of headlights. You will also notice that the muzzle has been raised to give it more stature, the F-150 now more akin to Super Duty. Moreover, the visual signature of the LED headlights of the Super Duty series trucks is repeated here, this time in two parts, since it is integrated into both the headlights and the fog lights.
Aesthetically very inviting, this new F-150 amazes especially when the doors are opened. New instrumentation, new steering wheel, new center console, new 12.1-inch touchscreen as well as redesigned seats raise the bar, allowing GM pickup trucks to remain even further behind, where the interior remains the weak point.
It was behind the wheel of the most opulent version of the F-150 that I recently spent a few hours, trying to familiarize myself with this host of new gadgets. A Limited version with an entry price of $ 89,795, where the level of luxury and finish gives the impression of being at Lincoln. However, be without fear, the manufacturer has no intention of bringing back the Lincoln Mark LT pickup truck, which in the 2000s had tried to raise the limits of luxury a notch, facing the most opulent of F-15, which was the King Ranch version at the time.
Six versions
Excluding the Raptor which is likely to respond very strongly to the sudden arrival of the new Ram TRX, the F-150 range has six trim levels. XL, XLT, Lariat, King Ranch, Platinum and Limited. Only offered with the SuperCrew cabin, the latter therefore offers a hyper-technological environment where it is impossible to list accessories and functions. Remember, however, that the great ergonomics associated with this new digital instrumentation is remarkable, and that this 12.1-inch central screen is certainly more user-friendly than its equivalent at Ram.
Difficult to ignore the beautiful presentation and the high level of finish of the cabin. Then, a special mention to the seats, reminiscent of those of the Lincoln Aviator, where the design impresses as much as the multiple adjustments, which of course includes the massage functions. It is now even possible to tilt them completely horizontally, because the need for a nap can arise at any time!
Interestingly, Ford also chose to keep a traditional gear lever there, rather than opting for a rotary dial or push buttons. Decision supported by customer surveys, which mentioned wanting to keep this aspect, while making it less cumbersome. Thing said, done, since the lever now more compact stands out by the possibility of folding it flat, on the console. This feature allows you to deploy the central armrest, divided into two sections, which can be transformed into a work table.
Six engines
For 2021, Ford is adding a sixth engine to its lineup. Mechanics that will certainly shake up the competition, which still uses its traditional V8s while sales of this type of machine at Ford are currently around 25%.
In addition to its 5.0-liter V8, its three gasoline V6s and its 3.0-liter PowerStroke diesel engine, Ford is coming this year with a hybrid powertrain. Dubbed PowerBoost, the latter is the marriage of the 3.5-liter EcoBoost V6 to a 47-horsepower electric motor, for a combined maximum power of 430 horsepower and an impressive torque of 570 lb-ft. In short, the most powerful powertrain offered in the F-150 lineup (with the exception of the Raptor), for a combined average fuel consumption of 9.8 L / 100 km, roughly equivalent to that of the diesel engine.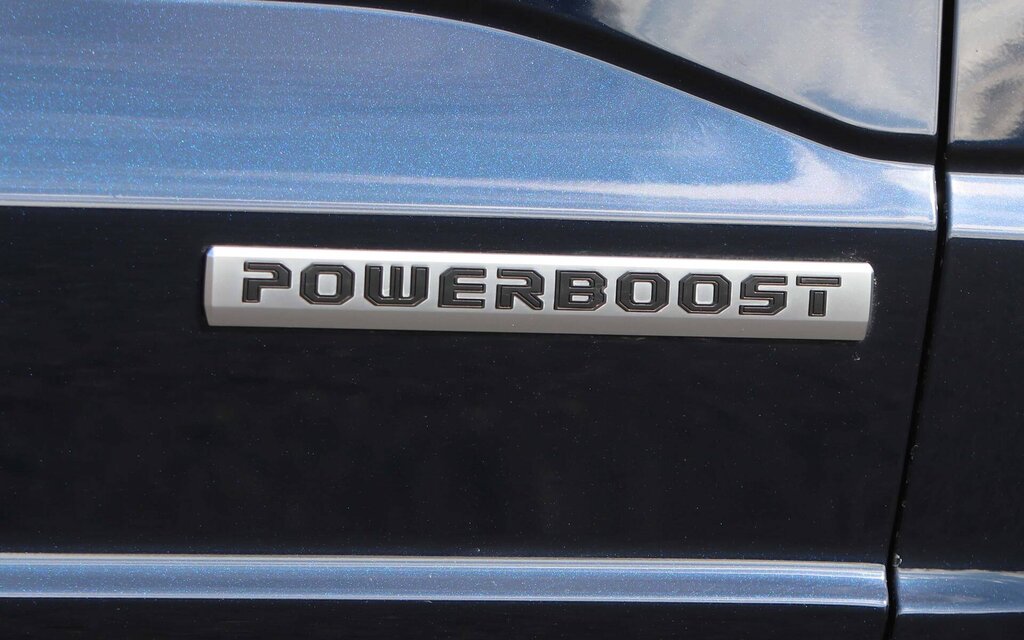 Announcing with this mechanism a maximum towing capacity of 12,700 pounds, Ford took advantage of the redesign of the F-150 to also increase the capacities of its other versions. Thus, a maximum capacity of 14,000 pounds with the EcoBoost V6 of 400 horsepower (power up by 25 horsepower) as well as a load capacity of 3,250 lbs.
In the context of a one-day test, in the end, I could not do better than 12.7 L / 100 km in terms of consumption, with this PowerBoost version. Then, while the power is delivered differently and the initial torque of the electric motor is a big plus, it was difficult for me to really spot a big difference in power with the EcoBoost 3.5-liter V6.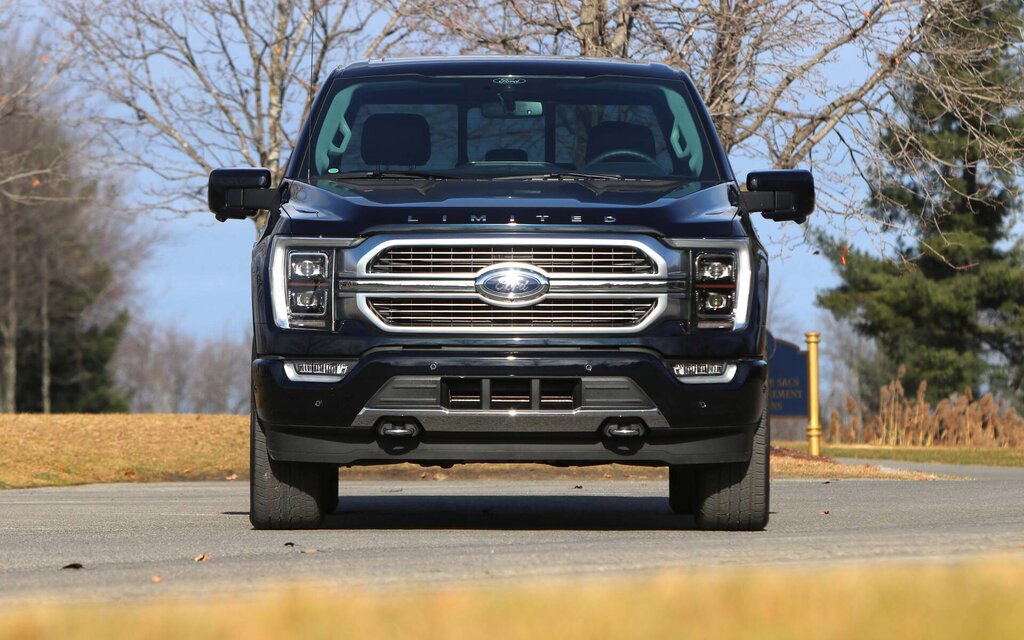 Simultaneous testing of both versions would therefore be desirable, which I will be able to do early next year. However, I must admit that I was more than impressed by the performance of this mechanism. A switch from electric mode to gasoline almost impossible to detect, coupled with a graphic animation on the dashboard which encourages them to change their driving habits with a view to lower consumption.
Do not be fooled, consumption will skyrocket when securing a trailer, as is also the case with traditional EcoBoost engines. However, never has a pickup truck so powerful and efficient in terms of capabilities been so frugal.
Extremely comfortable, the Limited version tested fitted 22-inch tires which frankly did not negatively affect its handling. Like what, Ford has also done everything to stabilize its van in terms of suspensions, which still do not offer a pneumatic avenue. And we must also underline the remarkable level of soundproofing, a sign of serious construction and great attention to detail.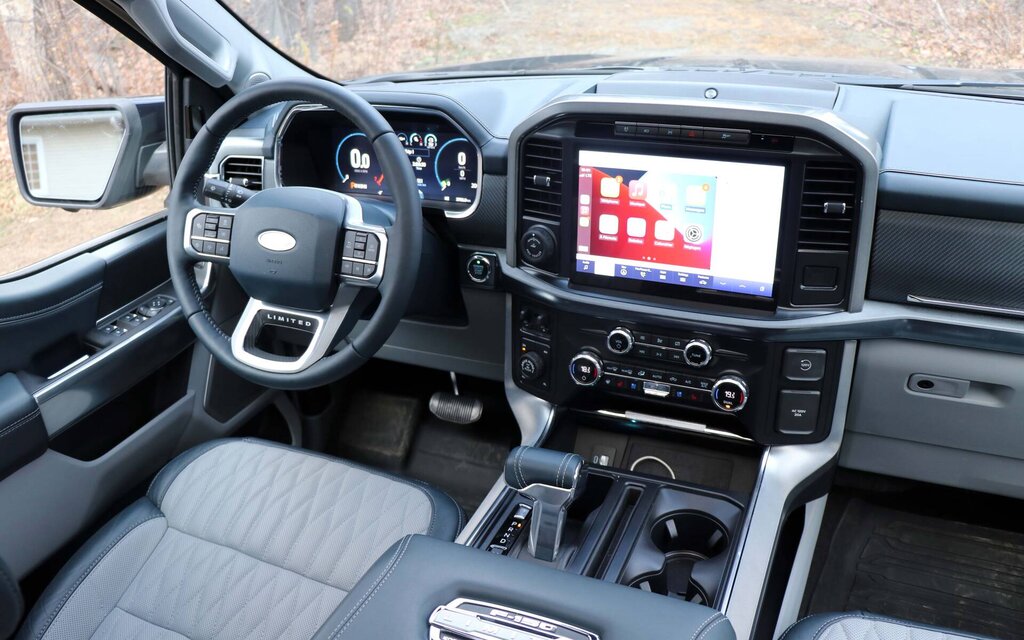 Proceed to checkout
Before talking about price, a word to emphasize that Ford is also innovating in the cargo box. With a top that can be fitted with an electric shutter, behind which hides a real work table, with anchoring of greenhouses and measurement units. Also, with an electrical panel called ProPower, placed on the inner wall of the bucket, allowing the connection of multiple tools, even 240V. Add to that a host of new features in active safety, countless lighting, camera angles and driver assistance functions, and you have a rough idea of ​​the innovations brought to this van that has it all. to stay on top.
However, you will have understood that all these innovations have a price, and that for those who choose to opt for the total, the bill before taxes can now approach the psychological threshold of six figures. As proof, my test vehicle was priced at $ 95,575, including the PowerBoost engine option billed at $ 2,500.
www.guideautoweb.com