Car manufacturers are stepping up efforts to be more respectful of the environment. Some have even announced their plans to become carbon neutral by the end of the next decade. But they are not the only ones.
The tire manufacturer Michelin, which launched the first eco-friendly low rolling resistance tire in 1992, is now going much further with the new Michelin e.PRIMACY, whose eco-responsibility has been pushed to the point of making it the first carbon neutral tire. to purchase to the world.
Thus, in all phases of its production, from the extraction of raw materials to manufacturing and distribution, the balance of CO2 emissions is neutral. This is all made possible thanks to the use of renewable or recycled materials in the composition, but especially to projects to replant trees and install less energy-consuming ovens in several countries around the world. These projects will be continued until the complete elimination of the emissions concerned.
In addition, with the help of its divisions and partners in certain markets, such as Lehigh Technologies (based in Atlanta), Michelin ensures that tires are recycled at the end of their life.
In terms of the tire's performance on the road, the company says it has achieved ultra-low rolling resistance for maximum vehicle fuel efficiency without compromising performance and safety attributes (it is rated A in terms of energy efficiency and B in terms of grip on wet surfaces).
According to its calculations, the e.PRIMACY will allow the driver to reduce fuel consumption by 0.21 L / 100 km, or a gain of about 80 euros ($ 125) over the life of the tire. Installed on an electric car, it will help increase the range by around 7%, which represents 30 kilometers for a model with a range of 400 kilometers.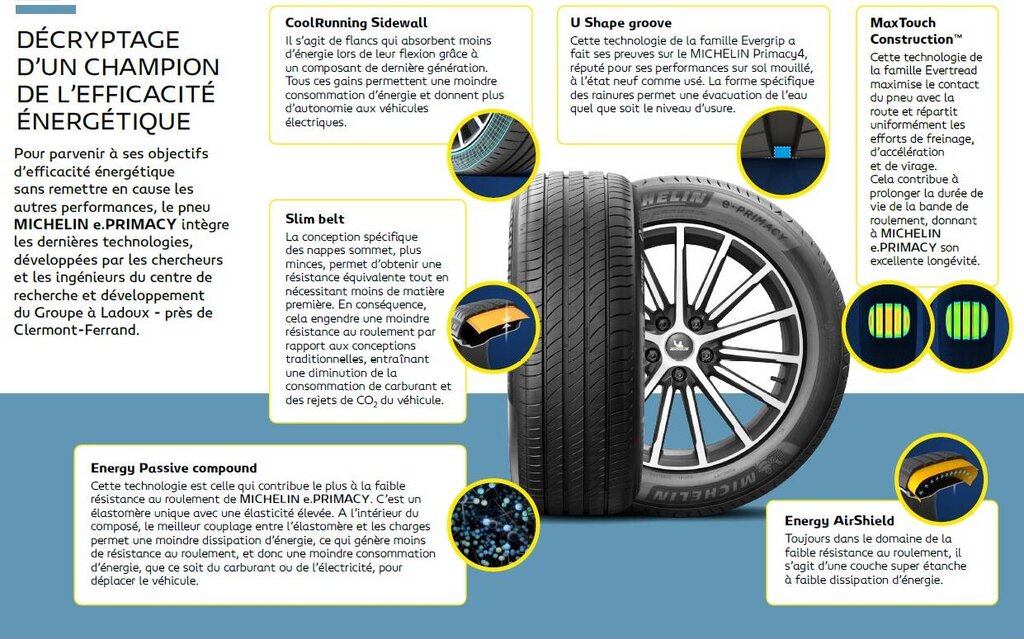 On the menu: a rubber technology comprising a unique elastomer with high elasticity, a specific thin belt design of the tire, a super waterproof layer with low energy dissipation called Energy AirShield, as well as CoolRunning sidewalls that absorb less energy during their bending.
Marketed from spring 2021 in 56 sizes varying from 15 to 20 inches, the Michelin e.PRIMACY is of course only the beginning. It paves the way for a new generation of sustainable and eco-responsible products that will hopefully serve as models for other tire manufacturers.
www.guideautoweb.com