Gone are the days when electric vehicles were reserved for wealthy motorists looking for a way to stand out. Today, many choose the electric car instead of the gasoline one because it is simply more advantageous.
Take the case of Chevrolet Bolt EV 2021. The first fully electric vehicle marketed by Chevrolet, the Bolt has proven that electric technology can make its way into the daily lives of Quebecers. Let's take a closer look.
The price
Because the financial aspect is often mentioned when it comes time to talk about electric vehicles, let's start with this thorny subject. The Chevrolet Bolt EV is available from $ 44,998, a price significantly higher than that of a vehicle of similar size powered by a gasoline engine.
However, certain elements must be taken into consideration to fully understand the invoice. First, you should know that Quebec motorists can benefit from a subsidy of up to $ 13,000 for the purchase of an electric or plug-in hybrid vehicle. The Bolt EV is eligible for this attractive incentive, which is applicable to the price of the vehicle after taxes.
Next, you have to consider the money you will save by eliminating your gas expenses entirely. Depending on the annual mileage you drive, it could be a substantial savings of several thousand dollars each year.
After a few years, the purchase of a Chevrolet Bolt could therefore prove to be more financially advantageous than the purchase of a gasoline vehicle of a similar size, yet much cheaper to purchase.
Electric autonomy
The range of electric vehicles still scares motorists, who fear running out of battery or having to wait many hours at a charging station before being able to continue on their way.
However, many owners of electric cars explain that their lives are simplified, since they no longer need to stop at a gas station to refuel every week.
With an electric car, all you have to do is plug in your vehicle when you get home, and it will be ready to leave with a full charge the next morning. That said, it is preferable to be able to have a 220-volt charging station installed in your home to take full advantage of this advantage.
When it comes time to hit the road for longer trips, electric car trips are generally hassle-free. The Chevrolet Bolt EV has a range of 417 kilometers, one of the best in the industry. You will be able to cover the distance between Montreal and Quebec in a single charge, even in winter. And if you need a recharge, the many stations in place in Quebec will allow you to do so within an acceptable timeframe. Connected to a level 3 fast charging station (400 volts), the Bolt can regain up to 145 kilometers of range in 30 minutes.
The pleasure of driving
Think driving an electric car is boring? It's because you've probably never driven one. Like all other battery-powered vehicles, the Chevrolet Bolt boasts instant torque that delivers blazing acceleration. With its compact size, 200 horsepower and 266 lb-ft of torque, it can be compared to a Volkswagen Golf GTI!
Up front, a 10.2-inch touchscreen allows efficient technological integration, with connectivity to Android Auto and Apple CarPlay.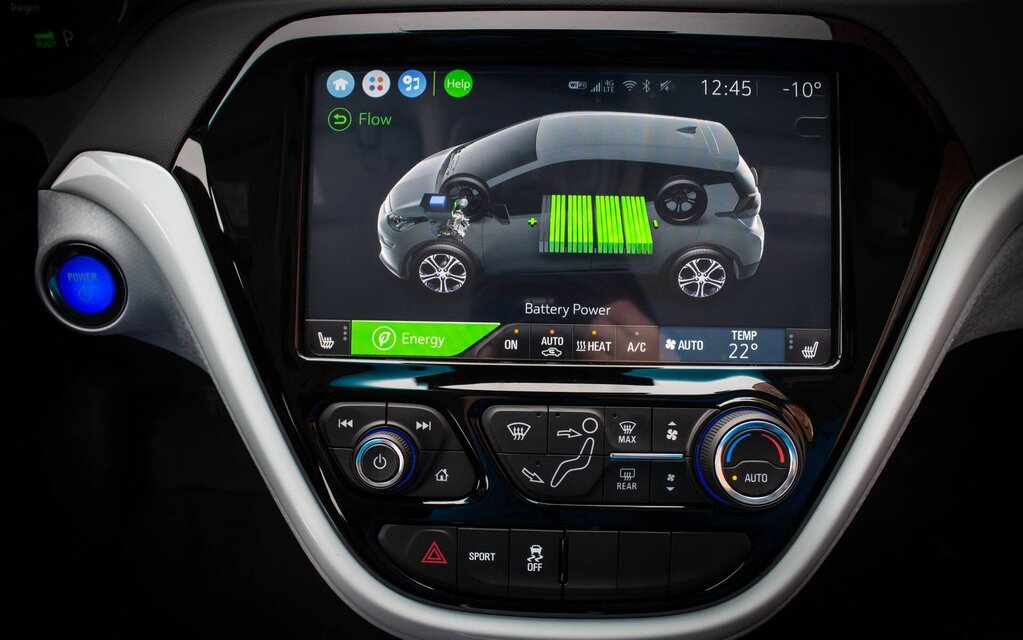 Space to spare
With its hatchback configuration, the Chevrolet Bolt EV can hold up to 1,603 liters when the rear seats are folded down. It is even more than what some small SUVs are able to offer.
Since the vehicle's battery is inserted into the floor of the vehicle, trunk space is not hampered by the electrical configuration. The Bolt can therefore accommodate a lot of equipment without worry. Again, there is no compromise to be made compared to a gasoline model.
www.guideautoweb.com