In times not so long ago, it was common to find a V8 under the hood of a full-size, wagon, midsize or even compact car.
Now that polluting emissions and fuel consumption are eternal issues in the design and development of an automobile, these engines have given way to much smaller displacement.
Nevertheless, the Ford Mustang persists and jealously preserves its V8, to the delight of purists. We put it to the test and here are our impressions.
A brilliant V8
While Mustang comes standard with a turbocharged four-cylinder engine, it follows tradition by offering an optional 5.0L V8. The acceleration is more than lively and the times are breathtaking and literally mind-blowing. With 460 horsepower and 420 pound-feet of torque under the right foot, it's no wonder.
It impresses, of course, by its performance, but also by its sound. On board a convertible, you can feel it even more. Indeed, when we engage the Sport driving mode plus via the control reminiscent of those used in aviation, we transform the exhaust system outright. This one growls, roars and asks only to speak. And that, we love it.
An unpleasant ten-speed transmission
While V8 engines are increasingly rare, so are manual transmissions. And fortunately, the Mustang continues to be offered with a six-speed manual transmission. Well staged and precise, it makes handling very pleasant.
However, the same cannot be said of the ten-speed automatic transmission – there are certainly four too many … – which fitted our test vehicle. As well as being constantly hesitant – with so many choices, the opposite would be surprising! -, it gives many jerks to the demotion. It gives the impression of a sloppy box whose programming has been done in a hurry. Frankly, this transmission is downright a handicap for this car with many qualities.
Comfort to emphasize
Unlike some sports cars, comfort has not been overlooked in the case of the Mustang. You can travel long distances on board without necessarily having to make an appointment with the massage therapist.
The whole is explained by its suspensions which are not too firm, but especially by its leather seats whose comfort is remarkable. For a sports car, let's not forget that.
However, this is only true for the front bucket seats, because at the rear, comfort is completely absent. The legroom is clearly insufficient and that for the head is completely nonexistent once the roof is in place. Moreover, the electric roof is easy to operate. All in all, the convertible Mustang is a very pleasant car… as long as you sit in the front.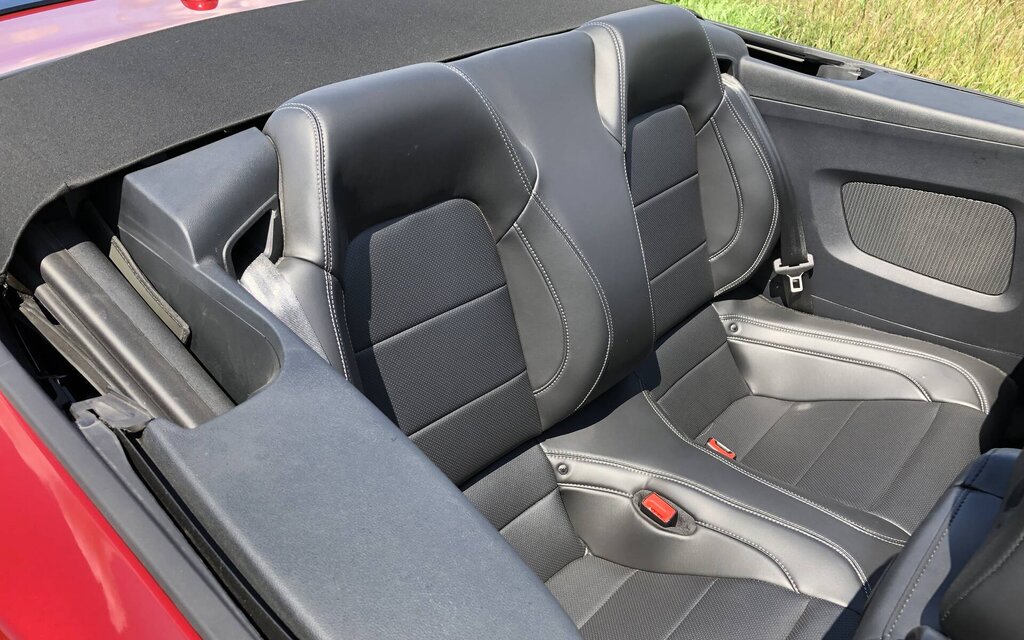 Reasonable consumption
All is relative. This is the watchword before climbing the curtains, because it is obvious that a sports car of 460 horsepower will not be the most frugal vehicle there is. During our test period of approximately 1,000 kilometers, the on-board computer recorded an average of 13.3 L / 100 km, which is quite remarkable. As an indication, Natural Resources Canada announces consumption, in combined driving, of 12.9 L / 100 kilometers.
A salty bill or not
The Mustang's lineup is so extensive that you can get one according to your desires, however rational or passionate they may be. Indeed, the EcoBoost coupe starts at just under $ 31,000 while the base price of the Shelby GT500 is close to six figures.
As for the convertible version, you have to at least extend a little over $ 35,000 to get a copy. The bill climbs to nearly $ 47,000 in the case of a GT version with a 5.0L convertible engine.
In conclusion, while it is often well to be ahead of the times, do not hesitate to remain conservative when ordering your stallion. Pick the V8 and pair it with the excellent manual transmission. So if you have any regrets, you can at least burn them along with your rear tires.
www.guideautoweb.com