While Jeep announces that it is back through the front door in the full-size luxury SUV market by unveiling the Grand Wagoneer, the American brand also took the opportunity to unveil its first vehicle in a new line of ecological SUVs, the Wrangler 4xe. Yes, we will soon be entitled to a plug-in hybrid version of the legendary Wrangler.
You should know that in Europe, Jeep already offers a Renegade 4xe and a Compass 4xe, both hybrids. 4xe therefore designates a line of plug-in hybrid products that should arrive at Jeep in North America.
There is nothing magical about the Wrangler 4xe, basically. This is a perfectly normal Jeep Wrangler, and if it weren't for a few blue accents here and there, it would be hard to tell it apart from a gasoline Wrangler.
Hybrid or not, Jeep promises us the same off-the-beaten-path performance as with a traditional Wrangler… but in silence! All 4xe will be "Trail Rated" and will include a package of accessories designed to tackle the toughest trails, such as skid plates, reinforced suspensions and tires, etc.
Hybrid, but also powerful
The main attraction of the Wrangler 4xe is that it can be driven in 100% electric mode for a distance of around 50 kilometers. It is therefore a plug-in hybrid vehicle, keeping a gasoline engine ready to take over when the batteries run out.
Under the hood is a 2.0-liter turbocharged 4-cylinder gasoline engine, good for 270 horsepower and 295 pounds of torque. This engine – of Alfa Romeo origin – relies on two electric motors to support it, one of 44 horsepower and the other of 134 horsepower.
In total, the Wrangler 4xe develops a power of 375 horsepower and a torque of 470 pound-feet.
This cavalry will be sent to all four wheels by an 8-speed automatic transmission, modified to accommodate instantaneous electric power. As on a traditional Wrangler, we will have a solid transfer case capable of driving us in rear-wheel drive mode, high 4X4 mode, and low 4X4 mode.
Disappointing autonomy
The Wrangler will therefore be able to run in 100% electric mode, but over a distance that is not so impressive. Its 17.3 kWh battery allows a maximum range of about 40 kilometers.
By way of comparison, the Toyota RAV4 Prime has an electric range of 68 kilometers while the plug-in hybrid variant of the Ford Escape offers a range of 63 kilometers.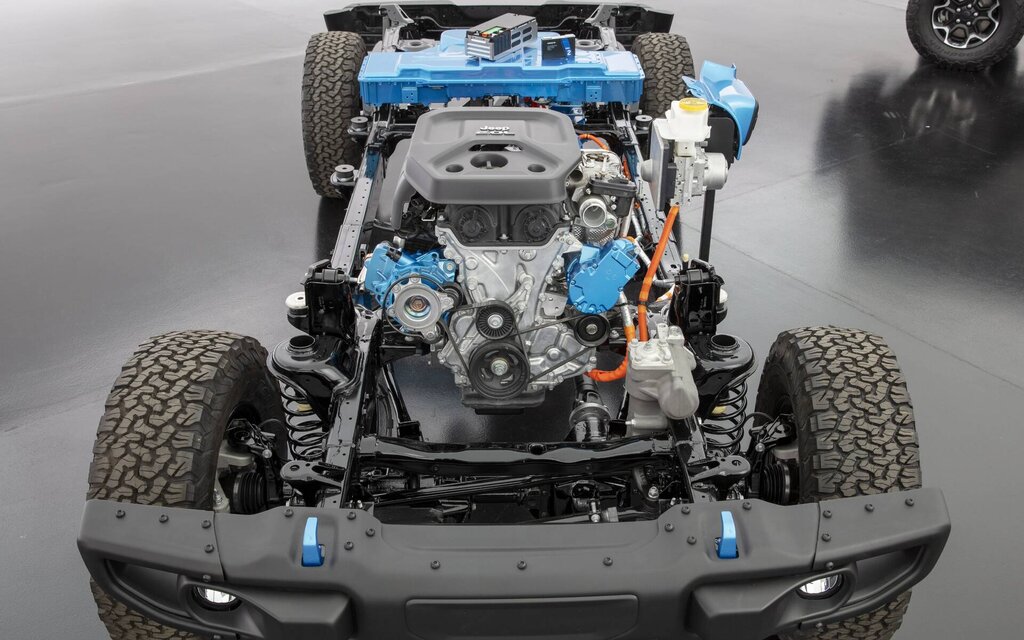 But since most people use this range in everyday life, we understand that it will mainly be used to cover the kilometers that have been done in town at low speed, where electric motors are more energy efficient, while hybrid mode will be useful at high speed. That said, according to statistics, most people drive less than 50 kilometers a day to get to work, so range might be fine for the majority.
At the moment, it's unclear how much the Wrangler 4xe will cost or when it will be available. We know that the powertrain can be combined with the Rubicon set (extreme off-road), and with the Sahara version. That said, knowing Jeep and the Wrangler, don't expect a bargain …
www.guideautoweb.com