Kia has confirmed the price range for the next generation Sorento, which will arrive in dealerships in December.
The base Sorento LX + will start with a price tag of $ 33,995, while its more upscale SX version will opt for a cost of $ 47,495 instead. The new X-Line version will cost $ 39,495.
The range includes six variants:
LX +
LX Premium
X-Line
EX
EX +
SX
Redesigned for 2021, the Sorento uses Kia's stylistic signature titled "Dynamic Purity." Thus, the fourth generation of the SUV incorporates the grille grille "tiger's muzzle", more aggressive than that of its predecessor. The daytime running lights and taillights are LED. In addition, the SUV will have the choice of rims ranging from 17 to 20 inches. The X-Line version will have its own stylistic signature, including 20-inch dark gray alloy wheels and a decked roof rack.
Built on the new N3 platform, the automaker says the Sorento is 3.1% lighter and 4% stiffer. In addition, the wheelbase is increased by 35 mm, which allows more space for passengers compared to the older generation.
In terms of powertrain, Kia offers two new engines to its catalog. Both of the four cylinders, the former will develop an output of 191 horsepower and 182 lb-ft of torque. As for the second engine, it will be turbocharged and power will increase to 281 horsepower and torque also to 311 lb-ft.
All versions, from the entry-level LX + to the more upscale SX, will come standard with all-wheel drive and an eight-speed automatic transmission. Additionally, the towing capacity is 3,500 lbs (1,588 kg).
In terms of safety, the SUV will be served with a host of standard driving aids such as frontal collision warning, frontal collision avoidance assistance, frontal collision avoidance assistance with a pedestrian, driver's attention loss alert and lane-keeping assist. Several others will be offered as options, such as Collision Avoidance Assistance.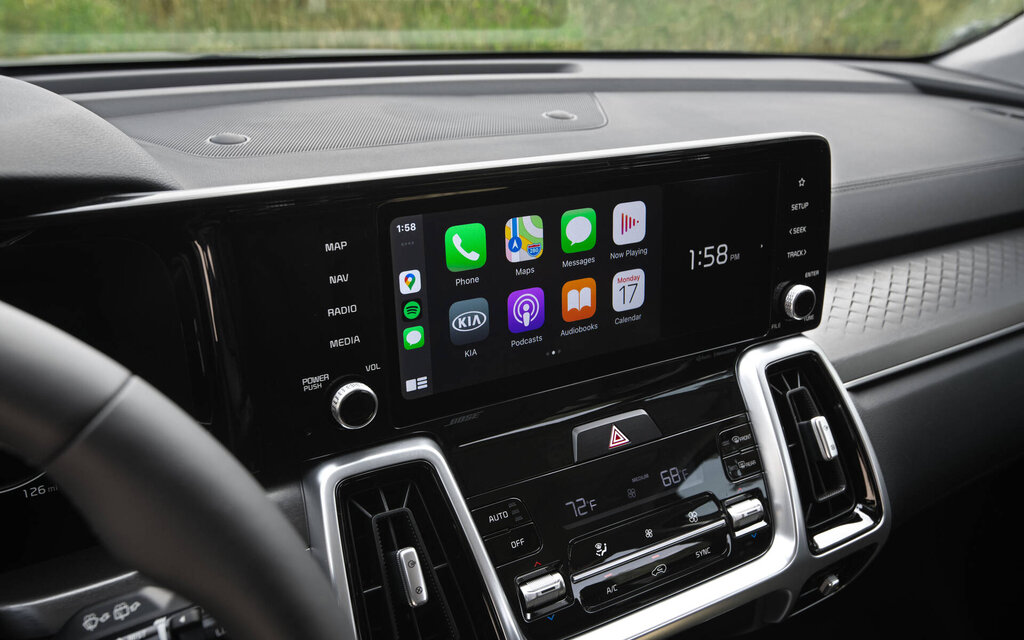 Among the technologies available, the Sorento will come standard with an eight-inch touchscreen for the infotainment system. An optional 10.25-inch screen is available. Depending on the version chosen, up to eight people will be able to connect via USB ports.
Other amenities will be available such as the completely digital 12.3-inch dashboard or four cameras located around the vehicle that will provide a 360 ° view.
The 2021 Kia Sorento can now be pre-ordered now by contacting a brand dealer.
www.guideautoweb.com