Live on the Twitch platform, Honda unveiled the prototype of its all-new 11th-generation Civic on Tuesday evening. The production model, which will be presented at the end of next spring and which will be on the road in the fall, will be very faithful to it.
Ironically, the Japanese automaker has turned to a platform for video game enthusiasts that younger generations Y and Z know very well, even if the car takes on a more mature look than ever. Besides, don't you think it looks like the Honda Accord?
The reason given is that the Civic remains the best-selling vehicle among this clientele as well as multicultural buyers.
At first glance, the 2022 Civic prototype strikes hard with its new vibrant orange color. Several elements with a black finish add contrast, such as the wheels, mirror housings, the grille and some moldings. The redesigned headlamps, with their blackened surround and signature LED, give the car a menacing look. Come to think of it, Honda might have unveiled it just before Halloween!
The beltline and hood are low, leaving more room for the windshield and windows for excellent visibility. The front roof pillars have also been moved back for this purpose. The profile is a bit more dynamic, while the taillights adopt a less whimsical design than before – a change that many will no doubt appreciate. Underneath, the tailpipes are skillfully integrated into a black trim that emphasizes the width of the car.
A new, more rigid chassis is in order, but retains the Civic's low center of gravity. There will also be more powerful and fuel-efficient engines along with a host of features and technologies that Civic drivers are not familiar with, not to mention more safety and driver assistance features. Unfortunately, technical details are not yet available.
While promising us an open and uncluttered interior, Honda so far only shows a single black and white image of the interior of the new Civic. On the other hand, we see that the cockpit (steering wheel, console, dashboard) changes considerably. There are fewer buttons, a nine-inch HD touchscreen now sits atop, and fully digital instrumentation faces the driver. Also notice this large honeycomb mesh that hides the air vents for an even more refined appearance.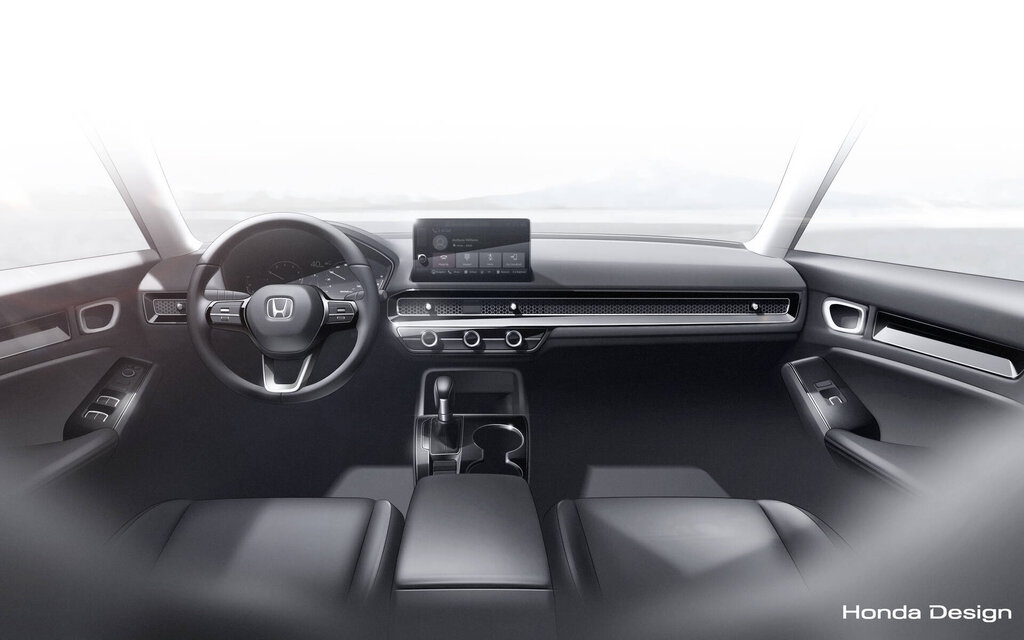 The 2022 Honda Civic sedan will of course be followed by the Civic hatchback (now assembled in the US), sportier Civic Si models and the high-performance Civic Type R. The coupe is not back, as mentioned. in a previous article. Continue to follow The Car Guide so you don't miss a thing!
www.guideautoweb.com