At this time when the electrification of vehicles has made the notion of autonomy essential in the eyes of some motorists (often wrongly), the advent of a Hyundai Sonata dangling its ability to travel up to 1,000 km should arouse the envy of all!
It should be noted, however, that this is not an ordinary Sonata. Because in its new aerodynamic forms, we discover a hybrid engine allowing it in principle, thanks to a 50 L gas tank and an average consumption of 5.0 L / 100 km, to make the round trip Montreal twice. -Québec before it is necessary to refuel.
At first glance, you recognize the eighth-generation Sonata, this elegant mid-size sedan that made its domestic debut last year. But on closer inspection, there are a few aesthetic nuances that set it apart, starting with a different grille and a vaguely different bumper with small active flaps. They open and close as needed to help, along with other spoilers, to optimize air circulation under the car. This sedan also has exclusive 17-inch aero alloy wheels. Result, it displays the same Cx as a Toyota Prius, ie 0.24.
The Sonata Hybrid is nothing new in itself. Hyundai has been offering thermal / electric powertrains for this mid-size sedan for about ten years. In 2009, the South Korean manufacturer launched the first regular hybrid Sonata, then in 2015, the first plug-in hybrid Sonata. For this eighth-generation model, however, only the regular hybrid version is currently in the brand's catalog, even in its home country.
Improved engine
This sedan uses a powertrain similar to that of the model it replaces. Under the hood, we find the 2.0L 4-cylinder Atkinson cycle direct injection, whose power has however increased to 150 hp (- 4) and torque to 139 lb-ft (-1). Added to this is a 38 kW electric motor powered by a 1.62 kWh lithium-ion-polymer battery, two ratings unchanged. This battery is however new and it has been relocated in front of the gas tank, under the back seat. In addition to granting 2 additional liters to the useful volume of the boot, this makes it possible to take advantage of folding backrests which allow the loading area to be modulated.
The powertrain transmits a net power of 192 hp to the front wheels through a 6-speed Shiftronic automatic transmission with manual mode. A priori, we choose a car with a hybrid engine to benefit from reduced fuel consumption. But, in the case of this family sedan, the anticipated fuel economy is accompanied by decent performance, since it can knock down 100 km / h in 8 s.
This new hybrid Sonata has a roof covered with solar collectors. This standard equipment, which can produce 205 W of electricity, is used primarily to recharge the 12 V battery, but also the battery of the electric motor. Above all, it would help to prevent, for example, a 12 V battery failure caused by prolonged stopping of the vehicle. The manufacturer also dangles another particularity of this equipment. On a normal day of sunshine (six hours), it would produce enough electricity to allow the car to travel approximately 3.2 km. On an annual basis, this is therefore equivalent to approximately 1,200 km … at least in a region enjoying constant optimal sunshine!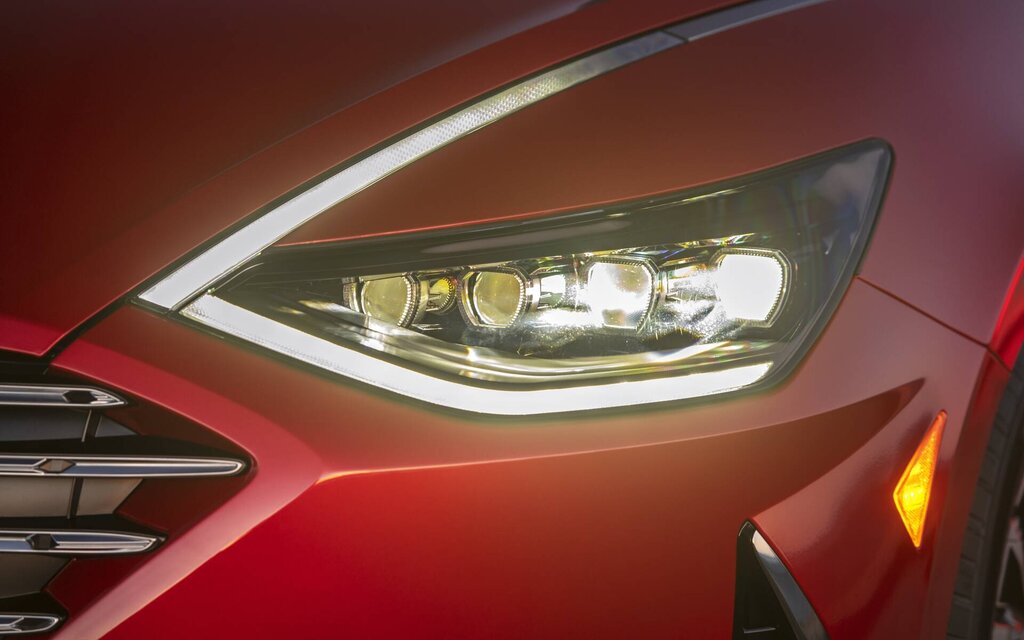 Very few rivals
In today's market, where midsize sedans have lost much of their appeal, the Sonata Hybrid has only two direct rivals that are also eco-efficient: the Toyota Camry Hybrid (4.9 or 5.1 L / 100 km depending on the version ) and the Honda Accord Hybrid (5.0L). The first is by far the best known and most popular of the trio, while the second often goes unnoticed by buyers, like this Sonata. This explains why Hyundai only offers one version of this hybrid sedan in Canada: the Ultimate. This high-end "fully equipped" version is sold for $ 40,199. With its expanded endowment, Hyundai is therefore targeting buyers of the more luxurious versions of its rivals: the Camry XLE hybrid ($ 39,690) and the Accord Touring ($ 40,405). Some buyers might even view this Sonata as a cheap alternative to another Toyota hybrid: the Lexus ES 300h ($ 51,250).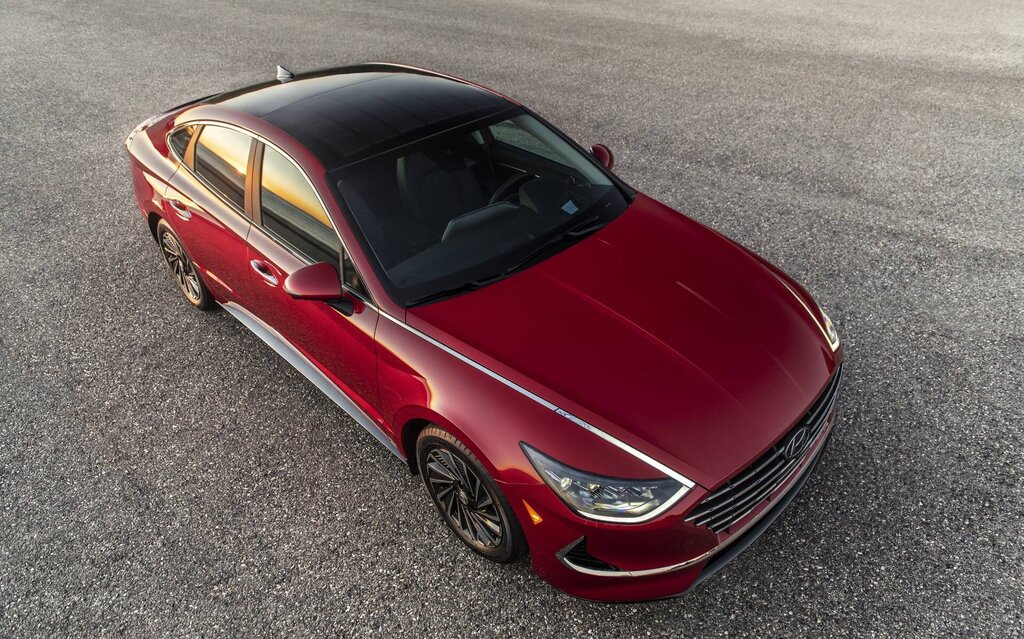 After all, this Sonata doesn't have much to envy the Lexus. Elegant like no other, its interior is modern, the finish is neat and the soundproofing has been greatly improved compared to the previous model. The new instrument panel has a contemporary, uncluttered design with few switches, a large (10.25 ") touchscreen seated atop its center section, and ergonomic snaps that, replacing the traditional shifter, give off the center console. In fact, there is plenty of space on board this sedan, which makes it an ideal vehicle for four adults who want to take a long trip. On the other hand, if the bucket seats are ample and comfortable, for a model that wants to be upscale, that of the front passenger could offer more possibilities of adjustments.
The handling is worthy of a luxury sedan. The ride is smooth, the steering precise and the braking biting, but easy to modulate. In addition, the transitions between the different operating modes of the hybrid drive are imperceptible. Drivers will love the head-up display system for the wealth of information it displays at the base of the windshield, while passengers rave about the quality sound reproduction of the 12-speaker Bose sound system. This car also has a very complete set of driving assistance devices.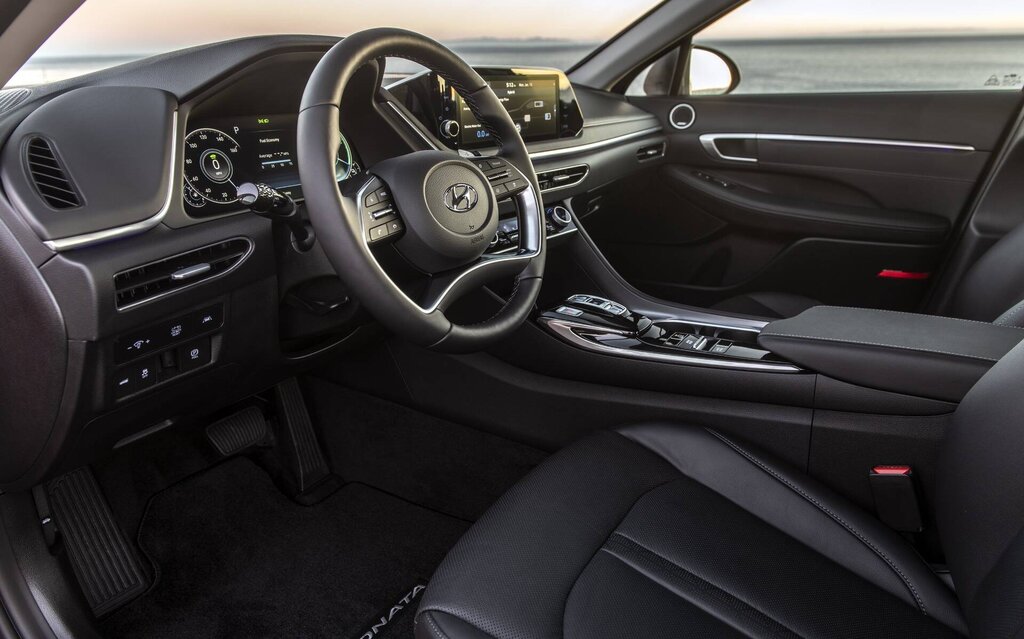 But the buyer still has to define his needs and his means to know if this Sonata is the one he needs. For example, if he drives 24,000 km per year or more, and is considering purchasing a gasoline-powered Sonata Ultimate ($ 38,749), a model whose average fuel consumption would be 7.7 L / 100 km according to EnerGuide, the Ultimate Hybrid could represent an interesting choice (even if its consumption can sometimes reach 7.1 L, as we saw with our test vehicle). On the other hand, the hybrid would be no match for the base Sonata Preferred ($ 27,149) if the buyer is looking for a cheap sedan that can cover no more than 12,000 km per year. It is always a matter of numbers.
www.guideautoweb.com