The Ferrari SF90 Stradale, the Italian manufacturer's first plug-in hybrid car, gives birth to its long-awaited convertible version. Here is the SF90 Spider!
Possessing the same specs and performance attributes as the coupe, the new convertible inherits the latest version of Ferrari's retractable hardtop.
The latter is compact, light and simple to the point of being able to open or close in 14 seconds even when the car is in motion. In addition, it only takes up 100 liters of trunk space instead of the usual 150-200 liters, Ferrari tells us.
The designers worked hard to ensure that the silhouette of the SF90 Spider with the roof up was the same as that of the coupe and that the level of stiffness of the chassis was not affected either. In particular, the cover is integrated with the B-pillars. Remarkably, the combustion engine remains perfectly visible regardless of the position of the roof.
So far as we're talking, the twin-turbo V8 teams up with three electric motors (two up front and one rear) to generate a total output of 986 horsepower, no less. Everything is controlled by an eight-speed dual-clutch transmission.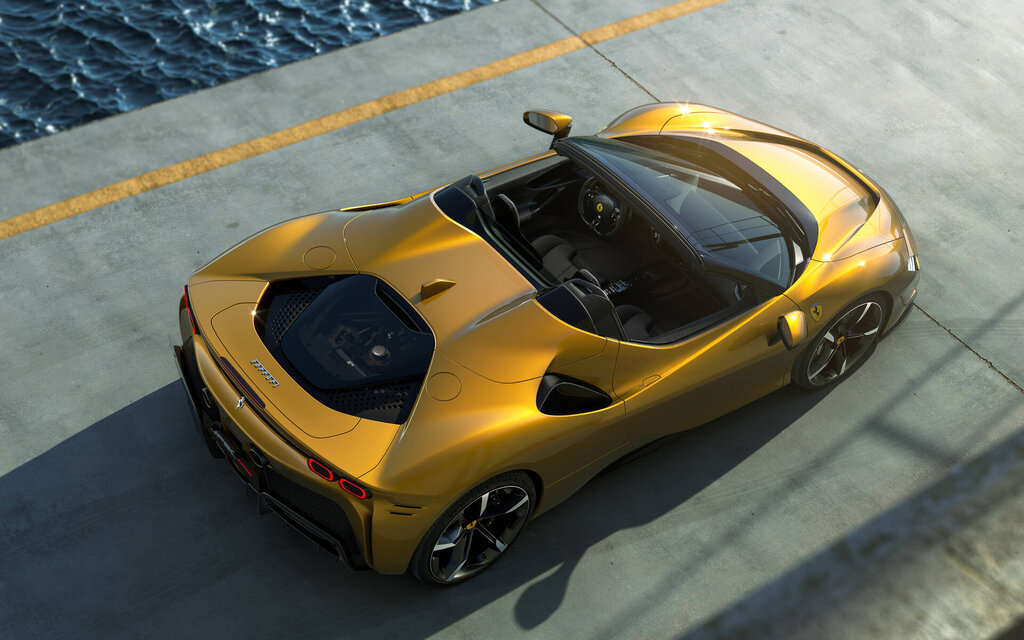 Three drive modes are possible: electric (traction), hybrid (propulsion) and 4WD hybrid (all-wheel drive). During deceleration, priority goes to regenerative braking and energy recovery. With the 7.9 kWh battery, the range is 25 kilometers and it is possible to spin up to 135 km / h;
From an aerodynamic point of view, an active Gurney-type rear spoiler sometimes reduces the drag effect, sometimes optimizes the downforce. Two elements are unique to the SF90 Spider: a trim between the two seats that diverts the air flow from the head and shoulders and a power rear window that enhances the comfort of the occupants at high speed when the roof is lowered.
Like the SF90 Stradale, the SF90 Spider offers an Assetto Fiorano package that enhances performance on the track, including specially tuned Multimatic shocks, lighter components and Michelin Pilot Sport Cup 2 tires. There is also the option of a two-tone body as in the pictures.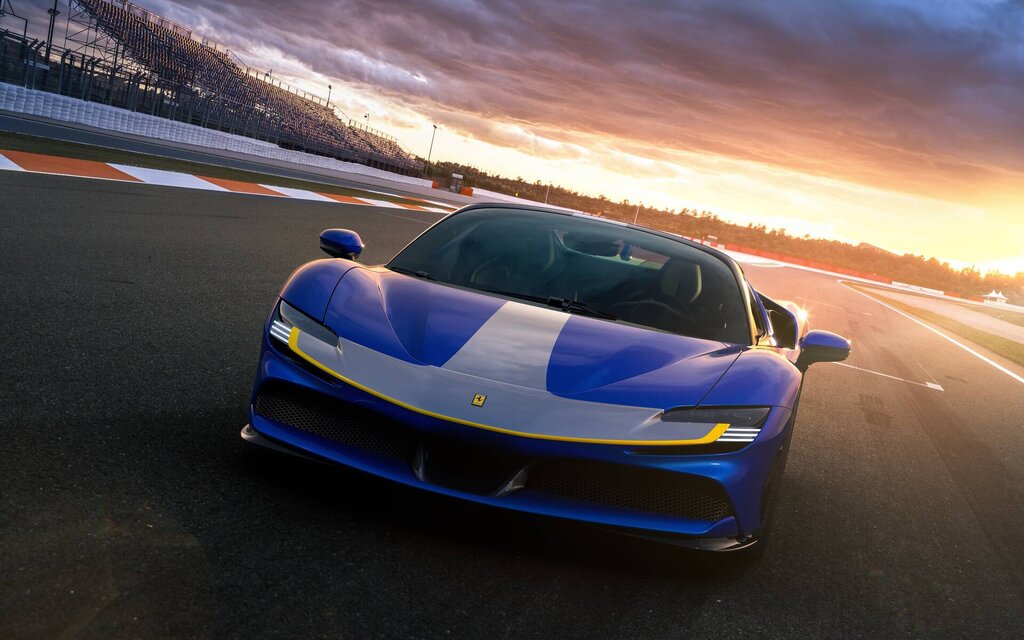 Finally, the interior is essentially the same. The single screen is located behind the steering wheel and measures 16 inches. By default, the display is dominated by a large circular tachometer which is surrounded by the battery charge indicator. Navigation resides on one side and audio information on the other. However, it is possible to reconfigure everything to have the navigation map on full screen, for example.
Pricing for the Ferrari SF90 Spider will be announced later, but it is sure to exceed that of the SF90 Stradale, which starts at just under $ 600,000.
www.guideautoweb.com