Foreshadowed by the 2018 iNEXT concept, the all-new BMW iX was unveiled today in its production version through the German automaker's #NEXTGen 2020 technology showcase.
This fully electric mid-size SUV is very promising, being better suited to the realities of the North American market than the small BMW i3 hatchback, which will not be renewed, or the electric X3 intended for China.
Before going any further, let us point out that the development of the BMW iX is not quite finished. It must be said that its arrival on the market is not expected before the end of 2021 – even later in Canada. Production will initially take place in a single factory, that of Dingolfing, Germany.
eDrive version 5.0
Leveraging a whole new arsenal of technology centered around the fifth-generation eDrive electric platform, the iX features several cutting-edge technologies that will be found in other future BMW models. Two electric motors team up to generate more than 500 horsepower (the exact figure remains to be determined) and accelerate from 0 to 100 km / h in less than five seconds.
You understand that the BMW iX has all-wheel drive. As for its autonomy, it amounts to more than 600 kilometers thanks to a battery of at least 100 kWh. However, this is an estimate based on the WLTP protocol used abroad. In North America, the EPA and Natural Resources Canada will agree to revise everything down, but we can still anticipate about 500 kilometers, which is remarkable.
By the way, the Tesla Model Y and Model X are currently the leaders, offering up to 525 and 597 kilometers of range, respectively.
BMW talks about 40 minutes to recharge the battery from 10 to 80% via a fast terminal providing up to 200 kilowatts of current. Barely 10 minutes would be enough to regain about 100 kilometers of range. As for a full recharge (to 100%) via a 240-volt domestic terminal, we're talking about a little less than 11 hours.
Unique design
This brings us to the design, because the drag coefficient of the BMW iX is only 0.25 and, according to the company's calculations, the aerodynamics of the vehicle alone would increase the range by about fifty. of kilometers.
Similar in size to the BMW X5 and X6, but with wheels reminiscent of the big X7, this new electric SUV adopts a muscular silhouette and a receding roofline. It stands out of course with a minimalist stylistic approach and a new interpretation of BMW's famous double nostril grille, closed with a panel that hides a number of cameras, radars and sensors used for driving assistance systems. Interesting fact: This fake grille is able to repair small scratches on its own in less than 24 hours at room temperature.
There are also various bluish accents and the thinnest headlights ever installed on a BMW vehicle.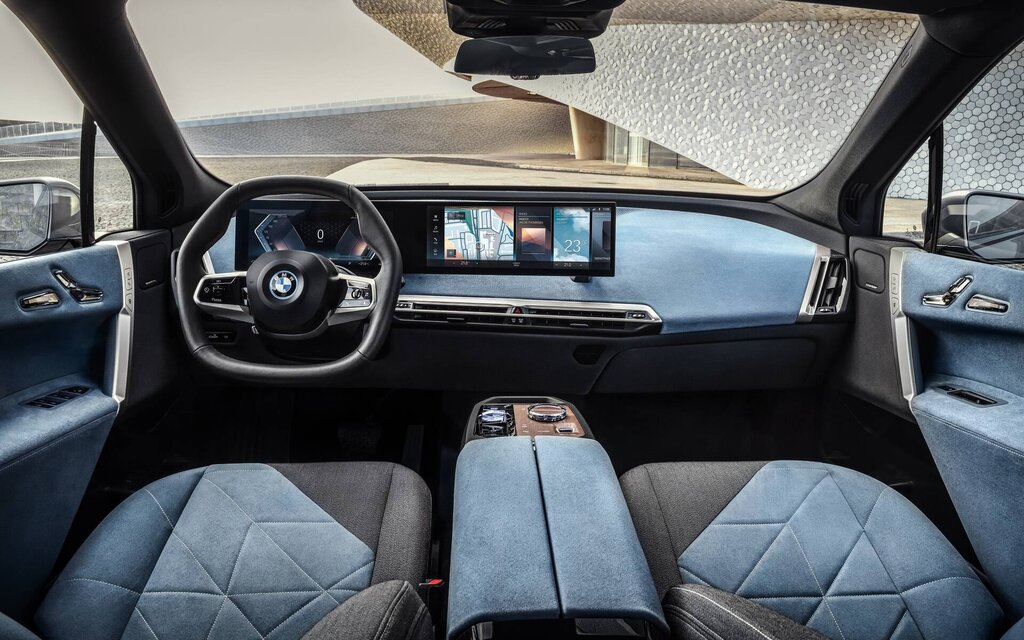 Like a lounge
Finally, the five-seater cabin is flooded with light thanks to the gigantic panoramic roof and offers a decor of type lounge. The central console has also been designed as a high-end piece of furniture. Space is plentiful, especially for the legs, while screens and controls are reduced to the essentials. The same goes for the speakers, which are discreet (including those integrated into the seats – a first at BMW). The other elements that we particularly remember are the hexagonal steering wheel, the switch as a gear selector and the curved digital interface combining 12.3-inch instrumentation and a large 14.9-inch central screen.
More details on the BMW iX will be made public in the coming months. In addition to the Tesla Model X, it will compete with models like the Cadillac LYRIQ. It is to be continued!
www.guideautoweb.com