Electric cars have been on our market for a long time. Since the Spark EV and the Mitsubishi iMiev, it's crazy how they have progressed!
We are now talking about electric supercars that cut 0-100 km / h in 2 seconds, or even super SUVs, like the new 100% electric Hummer with its 11,500 lb-ft of torque.
But these cars have not only progressed for the most fortunate people. For the average consumer, the electric car is also affordable year after year.
This is particularly the case with the Kia Soul EV, the 100% electric version of the Korean brand's urban crossover. While driving it, it becomes difficult to resist it, and at the same time to continue to doubt electricity as "fuel" for the car of the future.
Like a Soul Sport
At first glance, the Soul EV is nothing special. In fact, it looks quite like the petrol Soul, apart from a few small visual clues that tell us that it is indeed an electric vehicle. The wheels, designed to create less turbulence, are a good indicator of the car's ecological vocation.
In the cabin, unlike the previous generation Soul EV, there aren't plenty of eco-designed materials that cry green car. No, the cabin is pretty ordinary, sporting a clean, very Kia style.
The main difference is when you are driving you can feel it! The model we tested was the most expensive in the range, with an invoice of over $ 54,000. It has a range of nearly 400 km, and an electric motor with 201 horsepower and 291 pounds of torque. Compared to an ordinary Soul, it's practically a rocket! In fact, the performance is even a little too high for the car's tires, which are struggling to contain torque. If you put the Soul EV in Sport mode, for example, and remove the traction control, you'll be treated to a beautiful symphony from your tires whining and leaving part of their soul on the road. street coating.
That said, once launched, we have highway performance similar to that of a Golf GTI, and that's pretty good!
If you drive more slowly, the Soul behaves without a problem, and in Normal or Ecological mode, the torque of 291 horses is distributed more moderately. You might lose a little fun behind the wheel, but you have a more even experience, and the acceleration remains smooth at any speed.
Besides, the Soul EV, at any speed, is pretty stable. At 120 km / h, we feel that the tires are looking for the road a little, but if you opt for eco-responsible driving, at 105 km / h, you will see nothing but fire!
Regenerative braking 101
For those who want to know more about it, they convert it into electricity. Rather, this is an electric car operation. In a Nissan Leaf or in a Chevrolet Bolt, we even have the option of increasing the electric braking to the point where we can drive the car with a pedal: we press the accelerator, we accelerate, we release it, we slow down. !
In Soul, it's a bit too complex. Regenerative braking can be adjusted according to three levels of aggressiveness, put it in Automatic mode with again three levels, or even go for a little more braking by pressing a paddle behind the steering wheel. In other words, there are too many options for nothing, and it shouldn't be that complicated.
However, automatic regenerative braking is very effective. It uses cameras and sensors to detect if traffic is slowing down, and if so, it automatically engages automatic braking, depending on distance and speed. But, once again, when we compare the result to the simpler systems of the competitors, we are a bit unsatisfied.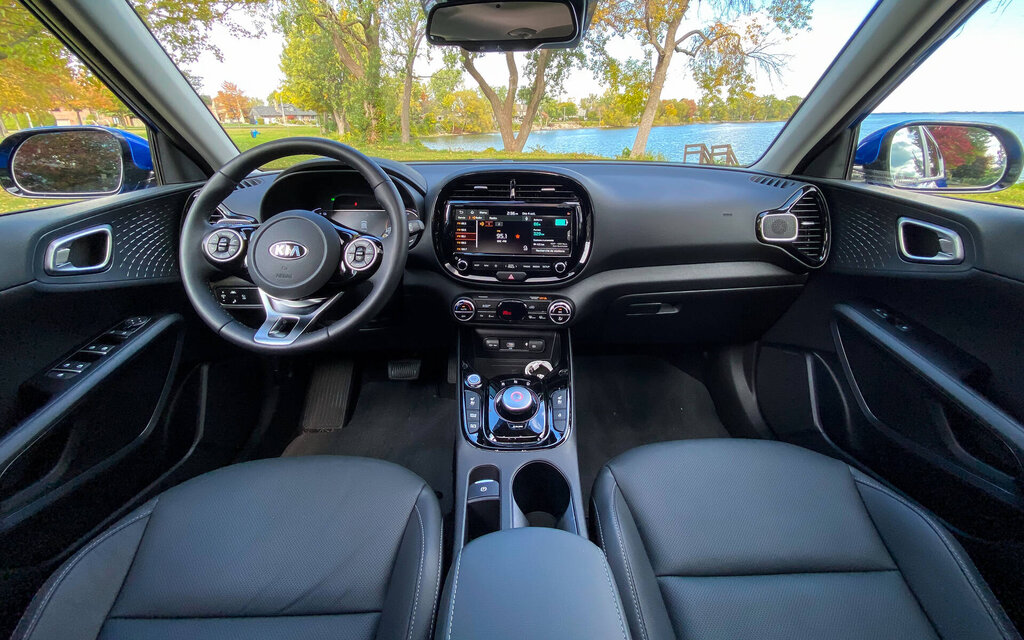 Otherwise, the Soul EV is just like a traditional Soul. It's roomy, comfortable – if you like to drive in a rather upright position – practical with its big tailgate, to the point where with the benches lowered, it could almost serve as a commercial van.
By driving it on a daily basis, we realize that the approximately 400 km of autonomy it offers are sufficient for a lot of everything, and in the worst case, we stop for a few minutes at a fast terminal, and we set off again. to the adventure!
The only problem, despite the $ 13,000 rebate granted in Quebec, the Soul EV remains expensive, and even if we say that the cost of electricity over a year is a fraction of that of gasoline, it takes a lot drive to quickly get in his money, and justify such a sum for what remains a compact SUV from a generalist manufacturer.
www.guideautoweb.com