Ah, the automobile was so simple in my young days. We opened the door, sat in the driver's seat, turned the key, and off we went!
Whether our steed was a Toyota Tercel or a Honda Prelude, it was the same ritual. We did not waste our time, each time, adjusting the car before leaving.
I am referring, of course, to the famous modes of conduct. Normal, sport, tourism, snow, super sport, ecological, and I could go on and on to name it, manufacturers are offering more and more programming in their vehicles, supposed to adopt the conduct according to what the driver wants.
How it works ? Of course, it varies depending on the car models and options it has, but we adjust the firmness of the steering, the travel of the suspension, the sensitivity of the accelerator, the sound of the engine, the behavior of the transmission, etc. Looks like you can't appreciate a car the way the engineers designed it to anymore. Even a Toyota Corolla has a sport mode these days …
However, this madness of driving modes, although present everywhere, is at its peak in luxury vehicles, and more specifically at Mercedes-Benz, where the experience is more frustrating than anything else.
The Mercedes-AMG GLC 43
I had a Mercedes-AMG GLC 43 on trial for a week. A very popular luxury compact SUV in Quebec, offering style, technology and handling at a relatively affordable price. Between the entry-level GLC 300 and the GLC 63, a real wild beast, there is the GLC 43, a slightly more docile AMG model. Mercedes-Benz recently revised its marketing strategy, and now mid-range powertrains are now entry-level AMGs.
Anyway, the Mercedes-AMG GLC 43 is equipped with sporty suspensions, large tires, and above all, mechanics of impeccable refinement. It's a twin-turbo 3.0-liter V6, developing 385 horsepower and 384 pound-feet of torque. This translates to 0-100 km / h acceleration in 4.9 seconds.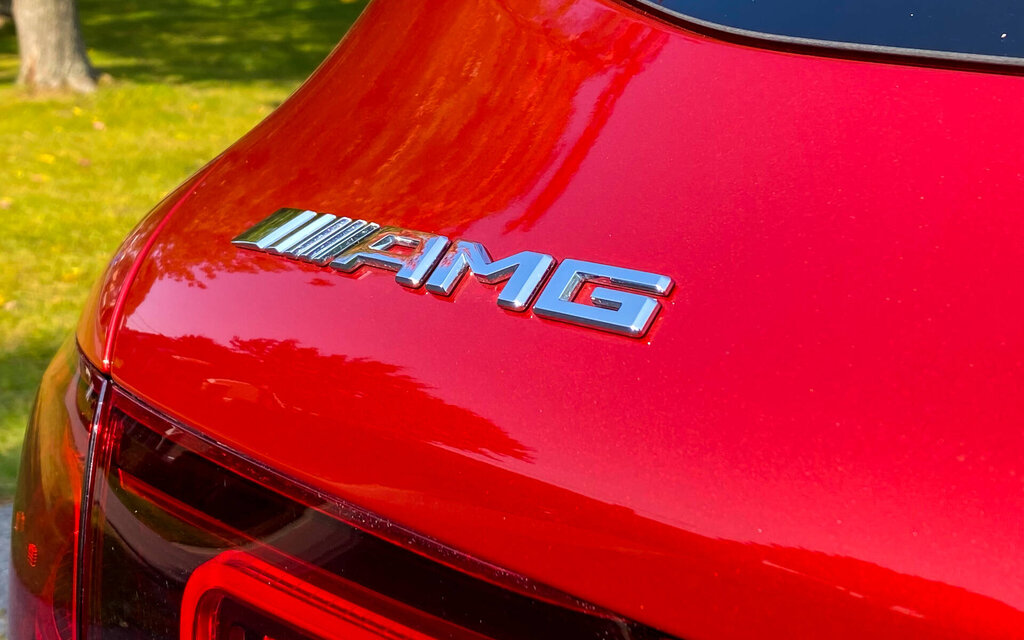 The trouble is, you don't really know what the engineers have come up with for him. You see, the engine and the drive are completely trapped in driving patterns that drastically change its behavior.
To get power to all four wheels, Mercedes-Benz has opted for a 9-speed automatic transmission. This transmission, which is known to be of high quality, is also dependent on computer programming.
By default, the car starts in Comfort mode. This mode is supposed to provide a smooth and calm ride in a vehicle that screams sportiness, just by seeing its look. At the start, the vehicle gives funny knocks, and accelerates too quickly. Plus, the adjustable suspension, even in comfort mode, is far too firm for an SUV.
Then there's the Sport mode, which arguably offers the best throttle setup, which becomes much easier to modulate, and this is where it's easiest to come out of a full stop. However, the suspension becomes unpleasant on our rotten roads, especially, again, when you consider that you are in an SUV.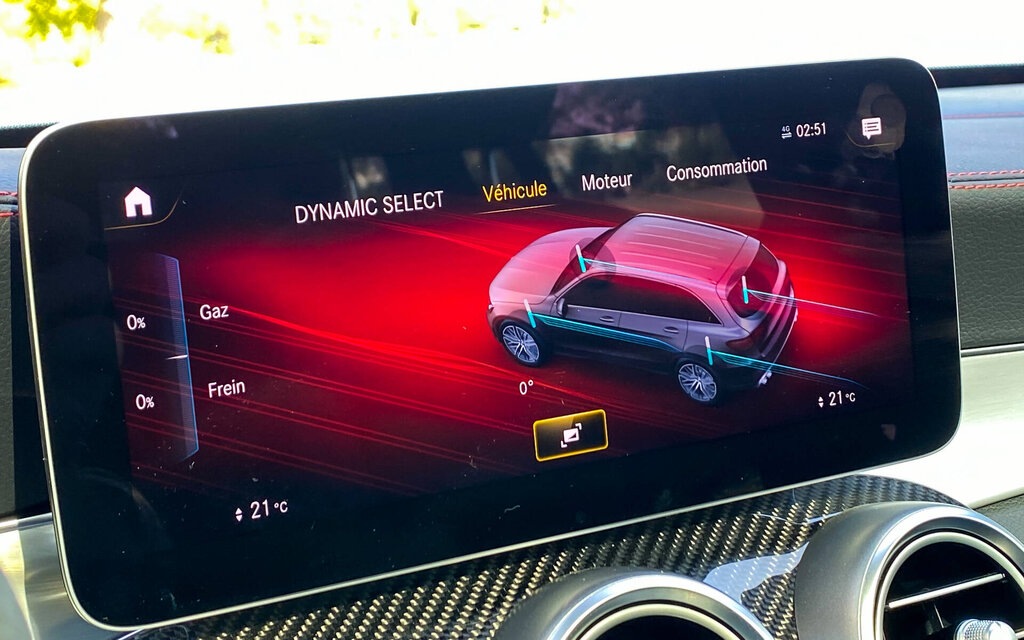 Then there's the Sport + mode, which is essentially unusable on a daily basis. The suspension becomes even firmer, the throttle becomes aggressive at low revs, and the transmission throws like you've never seen at low speeds. It may work on a track, but not on a daily basis.
The salvation of this SUV is in individual mode, where one can individually choose several parameters. After days and days of experimentation, here is what I suggest for enjoyable everyday driving without sacrificing the sporty aspect of the small truck:
Suspension: comfort;
Transmission: sport;
Dynamism: advanced;
Sound: improved.
But hey, even in comfort mode, the suspension is too firm, but god damn it this car holds up! I really tried to push it in the corners, and I couldn't find the limit of grip. In other words, we have a machine on hand that would undoubtedly be more comfortable on a track than on our roads, and it's fantastic what Mercedes-Benz has managed to do with an SUV, but it has to offer something something more comfortable in everyday life. Cadillac manages to do it with its magnetic suspension.
For the rest
The version I had had advanced Mercedes-Benz security systems, including automatic parking. With Tesla, it is one of the most successful systems of its kind, capable of parking the car in parallel, frontally, and backwards. The only downside of this system is that it is rather slow to react, and requires some space to practice. In other words, if there are cars following you closely, you won't really be able to use it. But, on a quiet street, your GLC will squeeze into spaces you wouldn't have ventured into otherwise. The system can even help you to start again, if you are not sure of your distances.
As a dashboard, there is a very high resolution digital screen. You can configure it to display a multitude of things, like a navigation map. It is even possible to alter the colors and arrangement of the instruments.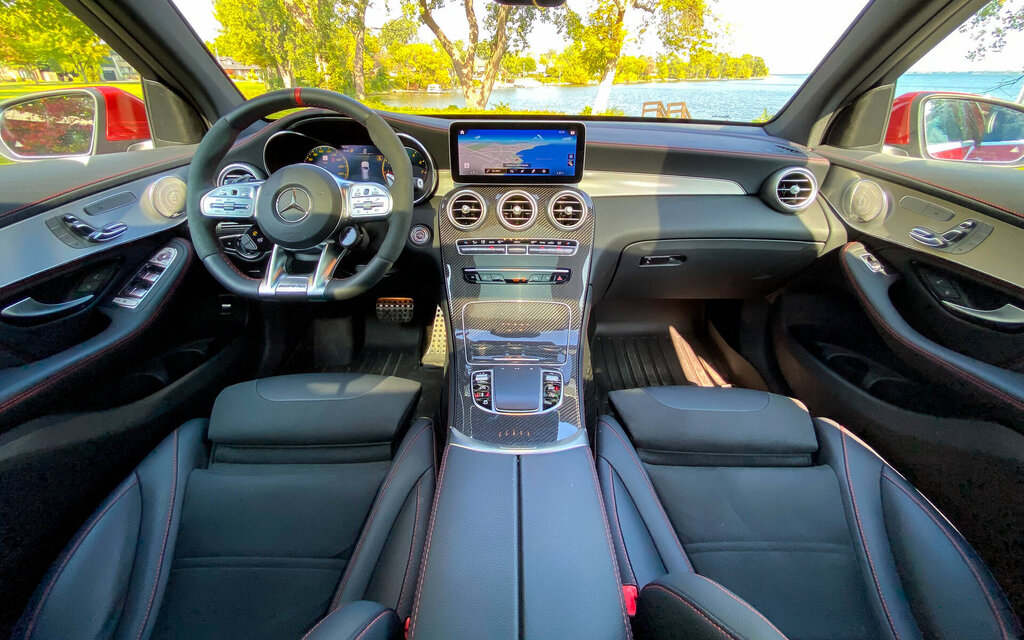 The multimedia screen is also very high resolution, and has a lot of menus. The main screen can be operated from touch pads on the steering wheel. It all sounds complicated, but honestly, it's pretty intuitive once you have a little practice. At least, quite a bit more than the Lexus system, for example.
In terms of space, the GLC is rather generous for its passengers, but the too firm suspension is particularly detrimental to the comfort of the rear passengers.
What should be remembered from this test is that the Mercedes-AMG GLC 43 is quite a machine, with high performance, but the driving modes spoil the fun. Because too much is like not enough.
www.guideautoweb.com