In Quebec, the luxury sedan market is in free fall. While sales fell by 20% last year, Acura ranked fourth, just behind the unmistakable German trio (Audi, BMW, Mercedes-Benz). The TLX, which as a percentage, saw its market share increase in 2019 by 1%, therefore outclassed the Infiniti Q50, Lexus IS, Genesis G70 and Volvo S60 / V60, not to mention Cadillac and Lincoln which only retained one role. of figuration.
To do this, however, Acura had to offer generous discounts on its products, the prices of which were sometimes dangerously close to those of a well-equipped Honda Accord. A strategy which is obviously not ideal, since the fact of offering luxury at a discount discredits the premium aspect of a car which should nevertheless stand out.
Aware of this factor, Acura strategists therefore returned to the drawing board in order to give birth to a seventh generation of this sedan. For the record, remember that the Vigor landed in 1992, with an original dress and a 5-cylinder engine, unconventional. Then followed the 2.5 / 3.2 TL, the 3rd, 4th and 5th generation TLs, then the TLX, launched in the summer of 2014.
You will agree, so the TLX was ripe for a redesign. Not to mention that this new generation now has a double mandate, of course taking up the torch of its predecessor, but also becoming the oldest of the brand's sedans, following the disappearance of the RLX.
A new approach
While we could not previously pair a four-cylinder with four-wheel drive, the TLX is now changing its mind, offering as standard the all-wheel drive SH-AWD, which is teamed with a ten-speed automatic transmission and a 272-horsepower turbocharged four-cylinder.
In short, this is the powertrain taken from the RDX, which has enjoyed tremendous success since its arrival in 2019. A Type S version with a highly sporty flavor, the only one that can benefit from a V6, will join the range later. Turbocharged and with a displacement of 3.0 liters, the latter will produce 355 horsepower, which will replicate the six-cylinder Audi S4, BMW M340i and Mercedes-AMG C43.
It would of course be surprising if Acura could surpass the sales of these sport sedans whose reputation is well established (and yet …), but Acura's objective is not just a response to the competition. . We also want to prove to the industry that the sedan still has a place there and that the TLX is a product that North Americans will adopt in large numbers.
In the product planner's office …
While Acura has managed to create a distinctively distinctive dress based on a new chassis, the TLX doesn't necessarily catch the eye. In fact, the problem certainly does not come from the design which, for its part, is successful, but rather from too great conservatism of the product planners who have chosen a sober design and without much contrast. At least this is the observation that we must have in view of the base models, Tech and Platinum Elite, where the timid chrome trim and overly classic rims seriously lack panache.
Fortunately, the A-Spec version offers a much more dynamic outfit. Graphite-colored rims, black rear spoiler, grille and window sash, as well as a choice of more eye-catching colors are among the exterior aesthetic elements that seriously energize its appearance. Rest assured, at least 70% of TLX sales will be with this version, being a response to the S-Line, M, F or AMG sets of this world.
Seeing the success of the A-Spec versions of the RDX and MDX, and knowing that a large majority of TLX sales will be made with this wrapping, why not extend it to a majority of models? Go find out.
Welcome to 2021
Aging, the cabin of the previous TLX showed serious wrinkles, both aesthetically and technologically. A problem solved with this new generation, which incorporates an elegant dashboard, meticulously sculpted and which enhances the impression of luxury so sought after. Once again, the coating of the A-Spec version is more eye-catching, with instrumentation on a silver background and leather upholstery with red stitching. However, it must be admitted that a great class emerges from the interior of the Platinum Elite version, which displays not only an irreproachable quality of finish, but also pretty contrasts, combining woodwork, metallic trim and ultra modern mood lighting. . The latter also inherits seats with multiple electric adjustments including the length of the seat, a must for superior comfort and an optimal driving position.
We gain in rear space what we lose in cargo volume, which is very little. Now, Acura is creating an environment that wants to be more modern and user-friendly for the driver, which benefits from more storage space as well as an induction charger for mobile devices, which can also serve as storage compartments.
Unfortunately, the manufacturer persists in offering this damn touchpad inaugurated with the RDX, which complicates access to the yet primary functions that are navigation, the audio system and the various settings. Then, as if that were not enough, the maneuvers become more complicated with the use of Apple CarPlay. Think, for example, of accessing Maps or Waze when you're on a call, a great operation to challenge your patience. For those who appreciate the use of voice control, however, know that it works very well … except of course if you are on a call!
Heavily lighter
Although the TLX has taken an average of 40 kilograms compared to the previous V6 engine and all-wheel drive model, the steering wheel has a rather refreshing feeling of lightness.
Of course, this impression comes from a significant gain in handling and driving pleasure, but also by the fact of better weight distribution. The only version to benefit from an adaptive adjustable suspension, the TLX Platinum Elite is more versatile. Select sport mode and the suspension elements will firm up for a more dynamic ride, while comfort mode will give you the opposite impression of floating on a cloud.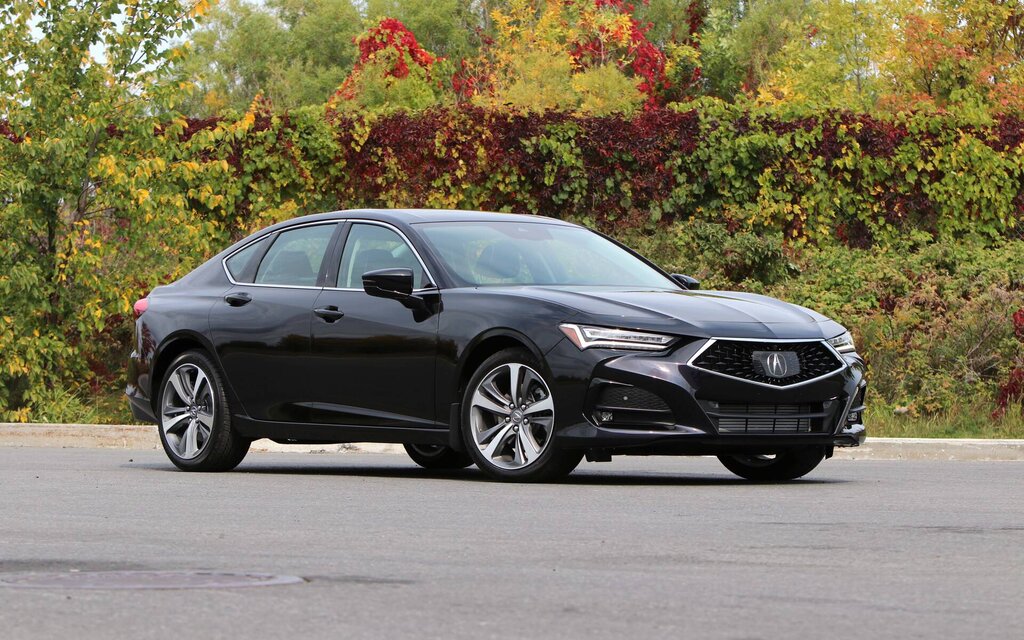 In this context, and even if the reaction of the shock absorbers could suggest the opposite, handling and stability nevertheless remain excellent. A real tour de force and which makes you deeply regret the availability of this suspension on the A-Spec version.
Solid and well anchored to the ground, the TLX benefits from ultra-efficient all-wheel drive with torque redistribution to the rear axle. Technology that not only makes driving in a wintertime easier, but once again contributes to road holding and handling. On the other hand, the TLX could be criticized for having too large a turning circle, which will limit you in particular when making U-turns.
For its part, the turbo engine is still up to the task. Nervous, just powerful enough and above all, not too greedy. And even if gear changes are frequent, the ten-speed automatic is well suited to it. Note, however, that during times, it sometimes takes a long time to react, except for the selection of sport mode, which also modifies the parameters of the transmission. Then, let's say that as a mechanical sound, we have already seen more bewitching. Speaking of which, you might notice a strong similarity to the vocals of General Motors' 2.0-liter engine, which is found as much in the Terrain and Malibu as in many Cadillac products.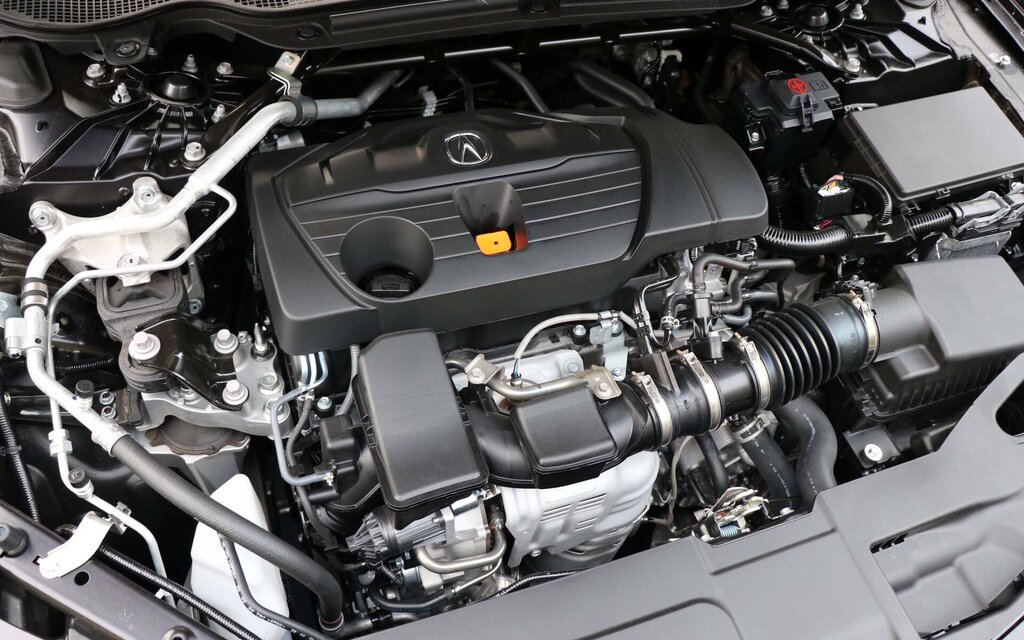 A Type S that is long overdue
With the arrival of a high performance version next spring, the TLX range will be more complete and better equipped to face the competition. Will it live up to expectations and above all, available in large enough quantities? To be continued.
It is, however, a pity that the manufacturer has not considered the avenue of a hybrid version in any way, although Acura's multiple attempts in the past have not been successful.
In the meantime, here is a sedan which is not without flaw, but which effectively rejuvenates the Acura range, which makes sure to distance all non-German rivals by a considerable gap.
www.guideautoweb.com