Unveiled at the end of June, the new 14th-generation 2021 Ford F-150 will be on sale by the end of the year, but the company had not yet quantified the exact power and capacities of the various powertrains offered, including the hybrid.
It's now done.
At the top of the category
Standard, the 2021 Ford F-150 packs a naturally aspirated 3.3-liter V6 that develops 290 horsepower and 265 lb-ft of torque. Next is the 2.7-liter EcoBoost V6 that delivers 325 horsepower and 400 pound-feet. Do you prefer diesel? The 3.0-liter Power Stroke V6 is back with 250 horsepower and 400 lb-ft. In all three cases, these are the same figures as in 2020.
The famous 5.0-liter V8 now generates 400 horsepower (+5) and 410 lb-ft (+10) of torque. As for the 3.5-liter EcoBoost V6, it also achieves 400 horsepower (+25), but with a torque of 500 lb-ft (+30).
All of these engines are mated to a 10-speed automatic transmission.
Need to tow a trailer or a trailer? The 2021 F-150's capacity ranges from 8,200 pounds with the base engine to 14,000 pounds with the larger EcoBoost V6 and the maximum tow package. For the latter, it's 800 pounds more than before and a new high in the category.
As for the truck's payload, the 3.3-liter V6 and 3.0-liter diesel V6 can haul just under 2,000 pounds each. The 2.7L (2,480lb) and 3.5L (3,250lb) EcoBoost V6s do better, but the champion is the 5.0L V8 with its 3,325lbs – over capacity by over 1,000 pounds to the closest competitor, the Ram 1500.
The hybrid that makes the difference
Combining a 3.5-liter V6 called "PowerBoost" and a 35-kilowatt electric motor, the new 2021 Ford F-150 Hybrid is the most muscular of all F-150s in history – at least until the coming. of the upcoming F-150 Raptor – with 570 lb-ft of torque. Its power is 430 horsepower.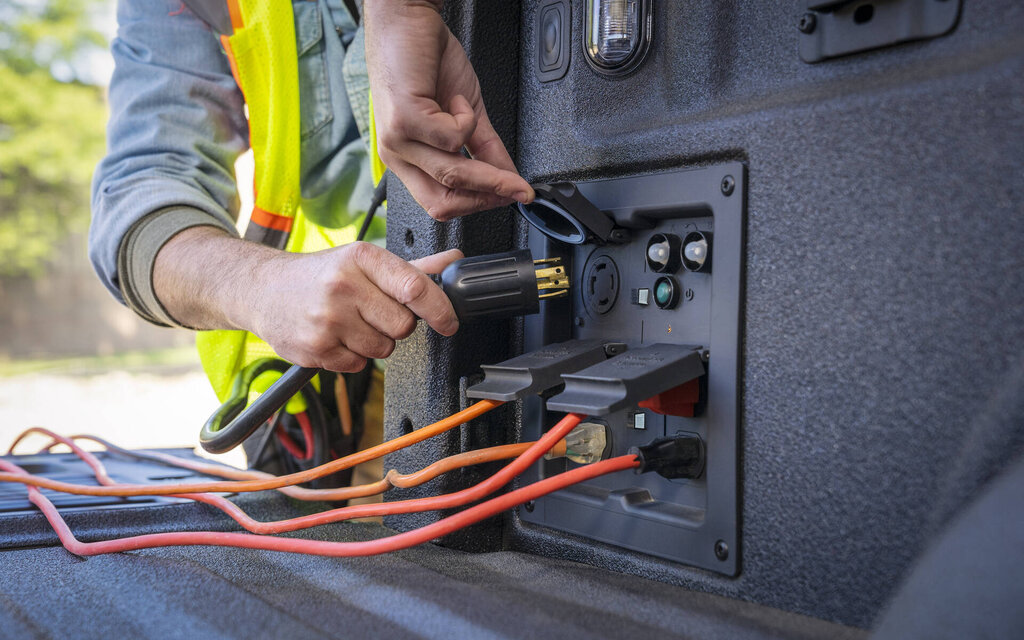 Its fuel consumption ratings in Canada remain unknown, but the company promises a total range of over 1,200 kilometers. Expect less if you take full advantage of its 2,120-pound payload and trailer capacity of up to 12,700 pounds.
This model, exclusive to the pickup truck market at the moment, even comes with an on-board generator capable of delivering 2.4 kilowatts of current (optional: 7.2 kilowatts). To give you an idea, that's enough to supply 28 fridges!
Don't miss these 10 new features we love about the 2021 Ford F-150!
www.guideautoweb.com