The fourth-generation Hyundai Tucson is eagerly awaited, especially since global vice president of design SangYup Lee said last year that "the whole world is going to fail when they see it."
Well, today is the big day. The Korean manufacturer has indeed just unveiled the first official images of the Tucson 2022!
The vehicle is remarkably faithful to the drafts seen so far and even to the Vision T concept launched at the 2019 Los Angeles Auto Show. We are talking about a production model.
Hyundai designers hit it hard with a multi-faceted grille that seamlessly integrates daytime running lights into its ends to form what they call "parametric dynamics." Plus, with a heavily sculpted exterior featuring plenty of angular surfaces and raised lines, they've taken the "Sensuous Sportiness" design philosophy ushered in by the new Elantra 2021 to another level, aimed at raising passions among future buyers. Does it work for you?
In addition, the new Tucson is longer and wider than the current model, with an extended wheelbase and short overhangs. Its rims are very sporty and its LED taillights, united by a full-width strip of light, don't lack style either.
Hyundai shows us at the same time a sketch of the so-called "double cockpit" cabin because the driver and front passenger each have their own well-defined space, in particular by the outline of the dashboard which extends into the doors. . Obviously, the thing that commands the most attention is the huge central panel that combines a screen and touch controls. There doesn't seem to be any physical button at all, which worries us a bit.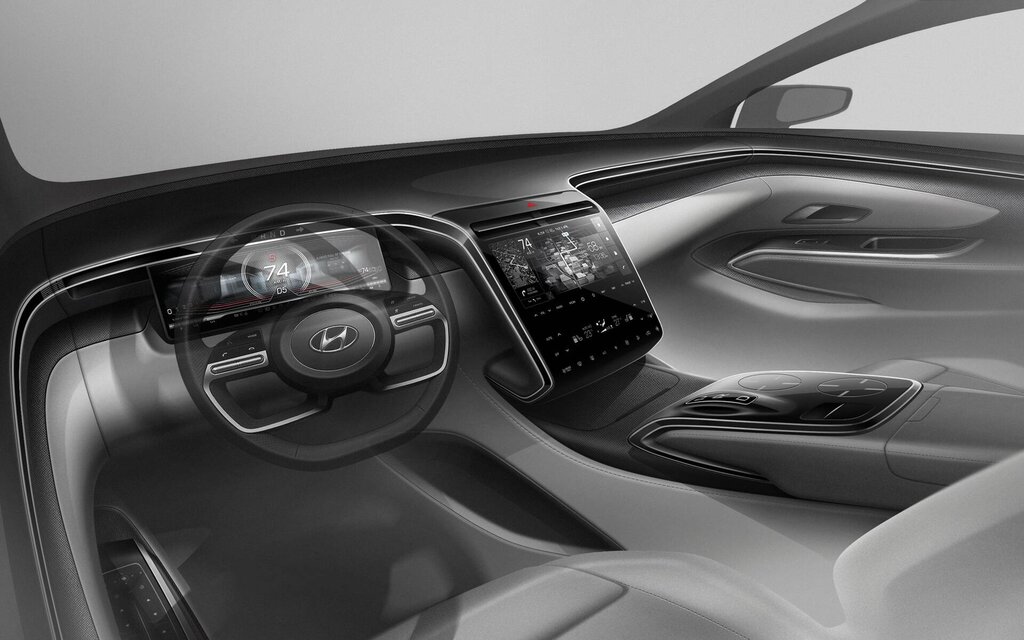 In this very refined decor, a large digital display replaces all the dials behind the steering wheel. The center console does the same, substituting the shifter with simple buttons and offering two cup holders that are closed when not in use.
The all-new 2022 Hyundai Tucson will be officially unveiled as a world premiere during a virtual press conference on September 14 at 8:30 p.m. KST. It's a date!
www.guideautoweb.com