Being the best-selling sport utility vehicle in Canada, we have to realize that the Toyota RAV4 is a consumer darling. For 2021, its gasoline and hybrid versions remain the same. However, a plug-in hybrid version enhances the existing offer.
The Car guide traveled to the Kingston, Ontario area to witness the Canadian launch of the 2021 Toyota RAV4 Prime. Here's what we thought.
68 kilometers
Mechanically, the 2021 Toyota RAV4 Prime is powered by a 2.5L four-cylinder engine. This is enhanced by two electric motors (one at the front and one at the rear). In total, we are entitled to a power of 302 horsepower, which is absolutely breathtaking.
Thanks to its 18.1 kWh battery, the RAV4 Prime can drive up to 68 kilometers in all-electric mode. During the test, which was carried out under conditions that we consider favorable, we were able to cover a slightly greater distance with a single charge while maintaining normal driving. Once the battery is exhausted, we switch to hybrid mode and Toyota announces a combined consumption of 6.0 L / 100 km, which is very reasonable since we recorded a higher consumption of just two tenths of a liter.
When it comes to recharging the battery, it takes 12 hours using a level 1 terminal and 2.5 hours using a level 2 terminal.
Almost a GR Supra
While compact SUVs generally don't shine with jaw-dropping performance, the RAV4 Prime impresses in this regard. Indeed, it is outright the most powerful and fastest RAV4 produced to date.
Just behind the GR Supra, it is also the fastest vehicle in the Toyota range, capable of reaching 100 km / h in just 6 seconds. For a vehicle whose primary purpose is to save you money at the pump, there is something to be amazed at. Once again, Toyota proves that hybrid powertrain does not necessarily mean flatness.
No doubt, the new RAV4 Prime is fast and its acceleration is sharp. However, as for the rest, we are in no way out of place. Both in terms of its handling and its interior presentation, Toyota has retained the authenticity of the model. If you've ever driven in a regular RAV4, you won't be disappointed in the Prime.
$ 13,000 discount
To obtain the maximum government credit related to electric vehicles in Canada, you must roughly meet two criteria: have a battery of 15 kWh or more and an MSRP of $ 45,000 and less. With a starting price of $ 44,990 and including an 18.1 kWh battery, the RAV4 Prime is entitled to a total of $ 13,000 in credit for Quebec consumers, or $ 5,000 from the federal government and $ 8,000 from the provincial.
This sum is the same granted for a fully electric vehicle such as the Hyundai Kona EV or the Nissan Leaf. However, the RAV4 Prime is only a plug-in hybrid. Its close rivals, the Ford Escape PHEV and Mitsubishi Outlander PHEV, are not eligible because their battery size is not large enough. With these, consumers have to settle for a subsidy of $ 6,500.
It is essential to emphasize that at $ 44,990, we are entitled to the SE variant, the basic version only offered in black, white or gray. In addition, out of an allocation of around 1,000 RAV4 2021 Prime in Quebec, we were told that only 3% of production will represent this level of equipment.
In other words, Toyota is motivated to sell RAV4 Prime, but only RAV4 Prime which will be lucrative: you have to extend $ 6,600 to go from the SE version to XSE. If we want to get the Premium Technology group, we must add $ 5,400. This package includes integrated navigation, paddle shifters, head-up display, ventilated front seats, panoramic roof (which is a first for the RAV4), bird's-eye view camera, and more.
Not all positive
Despite several attractions that already make it a very popular vehicle, the Prime version of the RAV4 does not only have qualities. Indeed, we should mention that compared to a gasoline or conventional hybrid version, the cargo space is reduced. The volume went from 1064 to 949 L. Despite everything, we kept the spare wheel. Brilliant idea. We were also told that the interior volume was unchanged.
What's more, its ground clearance is slightly reduced. It measures 180 or 190 millimeters depending on the level of equipment chosen for the RAV4 Prime while it is 206 millimeters for the conventional hybrid version. Notice to those who intended to think outside the box.
Conversely, in terms of towing, the RAV4 Prime is the weight. The manufacturer announces that it can tow up to 2,500 pounds, which downgrades the gasoline RAV4, with the exception of the Trail AWD version, as well as the hybrid version.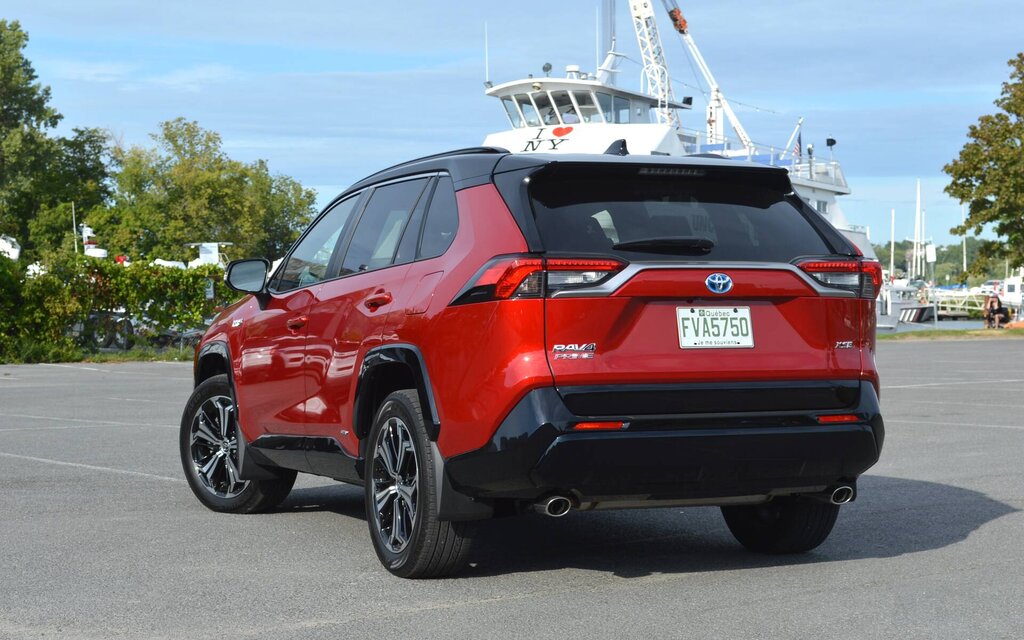 Let's be patient
Before even knowing that the RAV4 Prime was going to be eligible for full government subsidies, many consumers put their names on a waiting list. A few weeks ago, the owner of the Toyota dealership in Saint-Félicien told us that he had received 17 deposits of $ 2,000 when his allowance was only going to be four or five copies. While some mention an 18-month wait for this vehicle, others go so far as to say that it is more realistic to imagine a two-year horizon.
As of this writing, the first copies of the Toyota RAV4 Prime have already arrived at dealerships.
The Toyota RAV4 Prime has everything it takes to sell like hot cakes, especially in Quebec where government subsidies are more generous than anywhere else in the country. However, with an offer limited to 1000 copies in Canada in 2021 and an already very long waiting list, the RAV4 Prime will clearly be a victim of its success.
www.guideautoweb.com